Get ready mobile app developers, here comes Facebook
The Facebook Technology Partners Program was created to help mobile app developers build applications that integrate with Facebook.
First, Facebook changed the way college students interact. Then, it became a new way for marketers to reach consumers. Now, the social media platform is poised to make a wave in how mobile app developers build applications, thanks to the Facebook Technology Partners Program.

Download this free guide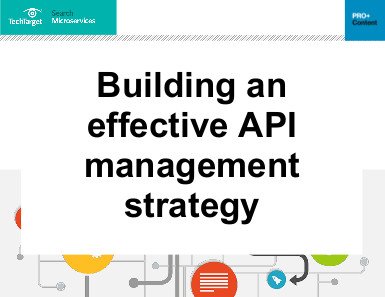 Components of an effective API management strategy
We're using more APIs than ever before, and you need one central location to monitor their security, application connections, and traffic. Open this guide to see what makes an effective API management strategy.
StackMob, Sencha, Corona Labs, Kinvey, Outercurve, Parse, Adobe, Prime 31, Thuzi and Trigger.io have been selected to be part of Facebook's new program created to help developers build mobile applications that integrate with Facebook.
The move could prove significant for a couple of reasons. The number of mobile devices equipped with HTML5-compatible browsers is on the rise, statistics show. Data from ABI Research indicates 1.4 billion such devices will be in consumers' hands by the end of the year. Furthermore, as StackMob CEO Ty Amell notes, Facebook is a growth engine of sorts. Application developers need to be thinking of social sharing, and the platform is the hub of that.
More on mobile development
Mobile web application developers will have the ability to create some nifty tools that aid consumers beyond reading product recommendations on Amazon. By integrating applications with Facebook, users can see what their friends are doing in addition to seeing social commentary.
During an interview with SearchSOA, Amell discussed the benefits of having an airline mobile web application built with Open Graph API.
"Open Graph is a nice step forward, where you are starting to cross share information," said Amell. "Not only does it say my plane is delayed, but what kind of bars and restaurants are in the area that I like."
Logging into an application through Facebook is designed to be simple. This is key because the more people use an application, the more insight can be gained about consumers.
"Apps need to use Facebook login, which allows users to sign into your app using their Facebook credentials. Once there's a relationship between your app, Facebook and the person, you can ask the person to publish stories from your app on their behalf," reads the social media platform's website.
This partnership program is one of many that have evolved between Web application development in the mobile sector. Recently, Sencha used Sencha Touch and HTML5 to create a Facebook client web app, Fastbook. In an interview with SearchSOA, Sencha product marketing vice president Aditya Bansod said, "the current generation of 2013 phones will shine with HTML5 and Fastbook shows that." The JavaScript framework allows developers to build touch-based web apps, according to Sencha.
Regardless of the vendor used, Facebook is taking the appropriate actions to move off desktops and into the mobile sphere.
Follow us on Twitter at @SearchSOA and like us on Facebook!