News
Stay informed about the latest enterprise technology news and product updates.
MDM, SOA, cloud computing connect data with enterprise architecture
Industry experts say that service-oriented architecture (SOA) and master data management (MDM) are hand-in-glove concepts. Cloud computing, meanwhile, may cover both bases.
"If you have good services but bad data, the [users] who judge you will still think you have bad services." So says Dan Power, president and founder of consulting firm Hub Solution Designs Inc. in Hingham, Mass. That's why Power and other industry experts say that service-oriented architecture (SOA) and master data management (MDM) are hand-in-glove concepts. Cloud computing, meanwhile, may cover both bases.

Download this free guide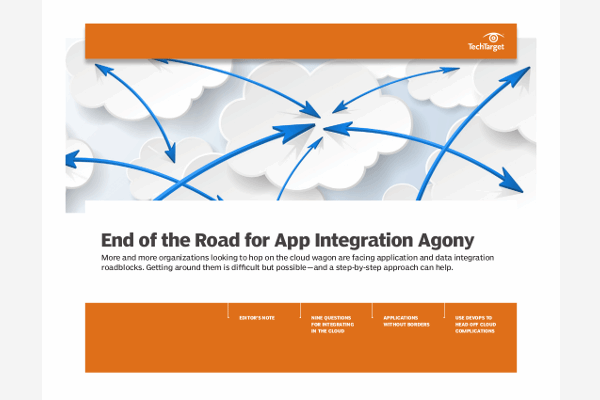 Download Our Guide: Application Integration for SaaS Adoption
More and more organizations looking to hop on the cloud wagon are facing application and data integration roadblocks. Getting around them is difficult but possible—and a step-by-step approach can help.
By submitting your personal information, you agree that TechTarget and its partners may contact you regarding relevant content, products and special offers.
You also agree that your personal information may be transferred and processed in the United States, and that you have read and agree to the Terms of Use and the Privacy Policy.
Further, the newer MDM technologies are designed from the ground up to be service oriented, according to Aaron Zornes, chief research officer at The MDM Institute in Burlingame, Calif. "MDM being newer-age technology is naturally SOA based," he said.
The irony is that if companies are moving to the cloud they're kind of getting both; they're getting MDM whether they know it or not, and they're getting SOA whether they know it or not.

Ron Schmelzer, senior analyst at ZapThink
Zornes continued, "SOA is useless without MDM content. SOA doesn't address data; it only addresses processes. What's the use of having SOA if you're not taking care of the data side?" He added, "The same thing for MDM. MDM is really a misnomer. MDM is not really a data hub; MDM is actually a process hub. In addition to storing data you're executing a bunch of rules in some BPM [business process management] system. So it's much more than a database; it's really a process hub."
Once an organization has an MDM hub, an SOA is the best way to orchestrate new applications with that data, Power said. "What do you use to shuttle that data around? Now people aren't using file transfer or ETL; they're using SOA—Oracle Fusion middleware, SAP NetWeaver, etc.—and the older ETL products have evolved to become SOA aware."
In fact, the large SOA leaders have all been moving into MDM. Forrester Research, in a February 2011 report on MDM trends, said consolidation was a big theme for 2010, "with a number of large data management software vendors picking off the best and brightest of MDM pure plays."
"The SOA people have been busy building services and ESBs, but you if look at the MDM products, they provide this out of the box," Zornes said. "Oracle and IBM in particular have 300 to 400 SOA services built into their [MDM] systems."
Yet in some cases, MDM and SOA efforts are like parallel universes. "It's been a decade since SOA [came to the fore] and people still don't get it," said Ron Schmelzer, senior analyst with ZapThink. "A lot still think it's Web services, and they totally ignore MDM. But for those who really are figuring out there's a lot to be gained in making loosely coupled services, they're also figuring out they need the data element too."
MDM and SOA efforts are starting to come together, Power said, led by enterprise architects who realize these initiatives need to coincide. "People designing services are working with data architects and enterprise architects so it's all one initiative; you can't worry about the data later on," he said.
Previously, Power said, "SOA people would deliver snazzy services but the data coming out wouldn't work or would be dirty or there was no validation. People wised up. You have to get the master data people involved from the beginning. Savvy organizations get master data teams and SOA teams together and say 'Thou shalt work together from day one.'"
The momentum behind cloud computing is helping to move these disciplines together. "MDM is the data pairing to the architectural philosophy of SOA," Schmelzer said. "A lot of times if companies are pursuing these two things together they will see symbiotic benefits. The irony is that if companies are moving to the cloud they're kind of getting both; they're getting MDM whether they know it or not, and they're getting SOA whether they know it or not. The cloud is really starting to put a merger on getting those two things in sync."
Security remains a concern for MDM in the cloud, however, Power said. "The master data world has been a little slower to adopt cloud, but it's starting to happen. Master data is among the most private and sensitive data companies have; it's the crown jewels."
It is still early days for MDM, according to the Forrester report, with data governance, data integration, and data quality maturity impacting MDM maturity. The study found that "only 17% of survey respondents felt that they had a high or very high level of MDM maturity, compared to 42% admitting low or very low levels of MDM maturity."
For organizations considering an MDM initiative, expert advice sounds similar to the early days of SOA: "Stop and think through data governance," Power said. "Don't just blindly charge into MDM thinking it's a technology solution alone. You need a data governance organization that will own the technology—people from the business side of things."
Zornes added: "Go data governance, go early; that's the war cry these days. You need to do some planning up front—data modeling, data profiling, and start executing policies of data governance."
Dig Deeper on Cloud integration and iPaaS