What are the best API management platforms?
API management platforms provide the tools and services needed to create and publish high-quality APIs. Learn which vendors offer today's leading API management software.
The API management market is, today, a rapidly growing space, featuring tools targeted toward everything from hobbyist projects to enterprise applications. This is quite the change from where the market was just a few short years ago. With the ever-increasing reliance many companies place on third-party APIs, it is more important than ever for API developers to build secure, usable, standards-compliant products.

Download this free guide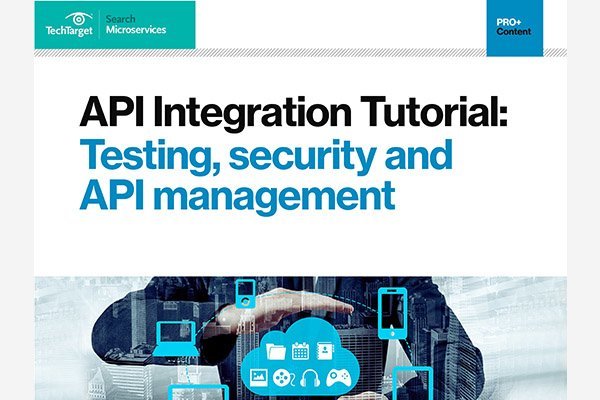 API Integration Tutorial: Claim your free copy
This tutorial compares leading API management tools on today's market as well as strategies for RESTful API testing.
By submitting your personal information, you agree that TechTarget and its partners may contact you regarding relevant content, products and special offers.
You also agree that your personal information may be transferred and processed in the United States, and that you have read and agree to the Terms of Use and the Privacy Policy.
When it comes to purchasing an API management platform, the reality is that there are a lot of options available, and with such varying feature sets, it can be tough to easily compare and contrast them. While it might sound easy to simply evaluate the individual features of each platform, the reality is that the majority of API management platforms offer comparable technical features, such as security measures, scalability and reliability tools. Remember that support, usability and implementation are the key categories that should be considered as part of your decision as well.
It's important to look beyond features, however, and evaluate each platform according to how impactful it would be to your organization. Before making a decision, ask yourself:
Which platform best suits the size of your organization?
How will your organization get help when something goes wrong?
Does the platform empower nontechnical team members to contribute to design, support or analytics?
How long will it take to onboard team members and consumers onto the platform?
How does the platform integrate with your existing architecture?
While the market is primarily dominated by traditional API management platforms, this popularity has paved the way for less-traditional products from major tech organizations like Amazon and Google, as well as a plethora of open source tools. Despite this influx of new offerings and the potential glut this may begin to cause in the market, there are a few clear leaders in the API management space that warrant your organization's careful consideration.
Best API management platforms for startups
Mashape Inc.
While Mashape isn't technically an all-in-one API management platform, it is a leader in this field due to the unique and affordable features it provides. Rather than a cohesive platform for API management, Mashape offers multiple products that work together to quickly add new levels of functionality to an existing API. The most beneficial of these products is an open source tool called Kong, a self-hosted API gateway that has an extensive plug-in architecture and allows users to add features a la carte, rather than start with an entire kitchen sink.
It's important to look beyond features, however, and evaluate each platform according to how impactful it would be to your organization.
Kong is an excellent choice for hobbyist projects and early-stage startups due to its low startup costs and largely self-driven management workflow. Unfortunately, it does not come with a front-end interface out of the box, meaning the initial installation and management process must be driven by the engineering team.
Microsoft
While relatively new to the API management market, Microsoft Azure is one of the fastest growing cloud computing platforms available today, which has led to organizations of all sizes to adopt it as their go-to cloud provider. Like its other products, Microsoft's Azure API management platform has a low price point and small footprint, making it perfect for startups and small businesses to get started with an API management platform that can scale to accommodate the growing needs of any product.
Red Hat Inc.
While the Red Hat 3scale API Management Platform can accommodate organizations of all sizes, it is an ideal platform for early- to mid-stage startups. Because it has such a strong organic conversion funnel, Red Hat/3scale has put a significant amount of work into its documentation and support sites. The platform does have a developer community and standard email support queue, but the self-serve nature of its product and its philosophy that "API success is dependent on creating an awesome developer experience" ultimately translates to thorough documentation capabilities and an intuitive user interface.
WSO2 Inc.
WSO2 is a low-cost, open source API management platform that is perfect for early-stage startups and small to medium-sized businesses. Because WSO2 is self-hosted, the platform can scale with the size of the organization, and resources can be allocated to it as they are needed or available. What makes WSO2 stand above other open source API management platforms is the scope of features it provides, which includes prototyping, security and governance tools that are typically found in other commercially available API management platforms.
Best API management platforms for SMBs
Apigee Corp.
Apigee is a well-designed API management platform that is aimed at mid-stage startups and enterprise-level organizations. With a more self-serve onboarding process than other market leaders, Apigee's product offering is aimed heavily toward organizations that require visibility into their API(s). The Apigee API management platform provides a high-level user interface for designing and documenting Swagger-based API specifications, a managed developer portal, and great API performance and issue tracking tools. Apigee's integration levels are tier-based, meaning that the on-site integrations are only available to customers in its enterprise-level product tier.
Cloud Elements Inc.
Unlike many of the other platforms on this list, Cloud Elements has a unique take on API management that gives organizations the ability to completely customize the individual features of their implementation. Rather than providing a kitchen-sink platform with every possible feature, Cloud Elements provides the ability to pick and choose the features that are important to an organization. While the Cloud Elements price point leans heavily toward larger organizations, the high level of customization and ease of usability makes it an excellent solution for smaller teams with fewer engineering resources.
Bets API management platforms for large enterprises
CA Technologies
CA Technologies' API management platform falls on the exact opposite end of the spectrum as 3scale when it comes to its target customer base. CA Technologies leans heavily toward enterprise organizations, which often indicates more prioritized support channels than most public forums provide. That said, it does offer an extensive knowledge base as well as a developer community, allowing engineers and developers to collaborate and help each other out with problems. While CA Technologies' API management platform does provide a developer portal and documentation management tools, the API creation functionality is more technically involved than others on the market.

MuleSoft Inc.

Similar to Cloud Elements, MuleSoft Inc. provides user with more than just an API management platform. Aimed at the enterprise, MuleSoft's prominent offering is its Anypoint Platform. This platform ties together internal services and third-party APIs for quickly and easily creating full-featured APIs with minimal expertise required by the user. MuleSoft also offers a marketplace that provides a number of API integrations, connectors, templates and example projects. MuleSoft's API management offering is like IFTTT for your API, but bigger, better and far more powerful.
TIBCO Software Inc.
In the same vein as CA Technologies, TIBCO Software's Mashery platform is an enterprise-leaning API management platform, though not quite as enterprise-leaning. The main difference between the two services is the target end user. The Mashery API management platform is very focused on the front end, which lends itself to incredibly easy-to-use management tools. With a Swagger-based UI for designing and documenting RESTful APIs, a browser-based interface for designing behavior flows and a no-code developer portal management tool, Mashery is very user friendly.
Rogue Wave Software
Targeted toward enterprise-level organizations in both scale and cost, the Akana Platform from Rogue Wave Software is perfect for organizations with well-established product management processes. Because of Akana's built-in version control system, changes made within the platform are tracked and can require approval by project leaders. This provides the high level of accountability needed by larger organizations with a lot of moving parts. It also provides transparency into the changes happening within a project, including who is making them.
Looking to the future
With the ever-increasing importance of API standards, the API management field is in a constantly evolving state. More than ever, things like security, scalability, reliability and usability are critical factors developers use to evaluate APIs for potential integration into their own products. Because of the pressure this puts on developers, API management platforms have become one of the most effective ways to quickly and easily add these features with minimal technical overhead.
As we move into the next year, we will likely continue to see even more tools entering the market with new and unique ways to manage, build and design APIs.