Indiegogo puts users first by focusing on UX research
Indiegogo UX pro Aga Bojko prioritizes her company's users and highlights the importance of user experience and understanding how to keep consumers satisfied.
UX pro Aga Bojko's user-first focus keeps Indiegogo campaigners and contributors satisfied. Here, we take an in-depth look at the steps she's taking to optimize efforts surrounding UX.

Download this free guide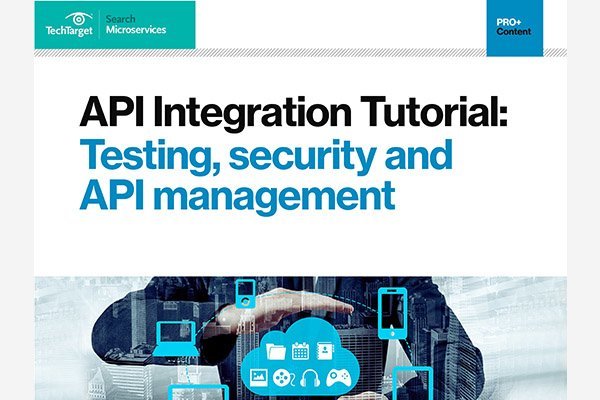 API Integration Tutorial: Claim your free copy
This tutorial compares leading API management tools on today's market as well as strategies for RESTful API testing.
By submitting your personal information, you agree that TechTarget and its partners may contact you regarding relevant content, products and special offers.
You also agree that your personal information may be transferred and processed in the United States, and that you have read and agree to the Terms of Use and the Privacy Policy.
Making it easy for people from all walks of life to create and contribute to fundraising campaigns on Indiegogo is Aga Bojko's mission. Her four-person user experience (UX) research team is constantly figuring out why a potential customer might click away from an Indiegogo page and what makes them stay. For Indiegogo and many other businesses, that information is the key to success.
"Our UX research team is entrusted with making sure that the company does not just build a product, but builds the right product," said Bojko, Indiegogo UX research director.
To meet these higher expectations, we need to start designing, not just to make products easy to use, but delightful to use. Now, our UX development and UI teams talk about designing for delight.

Aga BojkoIndiegogo UX research director
If user experience is so important to Indiegogo, one might ask, why employ so few UX researchers? Bojko's response: "Having four researchers is huge in a startup with about 150 employees." The UX researchers are part of a product team that consists of designers, engineers, business-side people and others.
Normally, small-to-midsize companies will have one or no UX researchers, she said. "You will not see UX researchers in most startups. Call me if you do." This oversight will change quickly, Bojko added. When she started doing UX research in the early 2000s, conversations with her peers often focused on how to convince a boss that user research is needed. Now, those conversations are about how to find UX research talent.
UX in the Age of the Customer
Forrester Research dubbed the early 2000s as the Age of Information, and a decade later hailed the start of the Age of the Customer. That moniker fit well, in Bojko's opinion, because customers had become savvier and more demanding about the user experience.
Back around 2002, when Bojko started doing user tests, people would blame their own lack of skills if they couldn't do something in an application. Today, she said, they say that the app is too hard to use and move on to another product. "To meet these higher expectations, we need to start designing, not just to make products easy to use, but delightful to use."
UX researchers' role in development
Bojko's first step in UX research project is ethnographic research, in which researchers discover features or products users need and vet proposed projects. Ethnographic research largely consists of finding problems users have by watching people try to solve them. Ethnographic research isn't used as widely in UI and application development as it should be, because it requires expertise and time. Yet, in her opinion, meeting users in person and watching them work is the best way to discover their requirements.
After ethnographic and other requirements gathering processes are done, the UX research team meets with UI designers. Together, they create designs, run user tests and evaluate the results. Next, researchers, designers, developers and the entire product team work together to build and deploy the product.
"My team is involved in the entire product lifecycle," Bojko said. "Even when the product is in production, we still test it to validate that it is really on the right track and if anything can be improved. We're talking to users throughout the entire product lifecycle."
Agile and UX research may clash
Getting enough time to do research in a product development iteration is Bojko's biggest challenge. The product team uses the Scrum approach, and Agile methodologies are used throughout the company. "We're working at high speed," she said. "You can't skip engineering, because the thing has to be coded, but research can be the thing that's deprioritized." It's her job to make sure research is not pushed aside and that it's done efficiently.
UX research is usually considered a big-picture practice. Doing UX research in an Agile development practice, however, calls for focusing on small components and the minimum viable product.
"We talk to the users all the time and have beautiful visions for the user experience," Bojko said. Frequently, however, she examines just a small piece of a product feature. "We just need to make sure that that small piece is good enough to get the user to where they need to be, recognizing that we'll probably get to improve on it later."
How UX research saves projects
Time and again, UX research has refined Indiegogo's product projects. For example, the UX team discovered that a proposed quick-launch option wouldn't be successful. Studying why potential campaign creators and contributors clicked away from an Indiegogo page, it was assumed that customers were discouraged by the steps required. "We thought a lot of people would want a simple sort of streamlined approach," Bojko said.
When a prototype of the quick-launch option was tested, however, Bojko's UX team found that everybody wanted all the features. "Nobody wanted to go to the quick launch," she said. "So, we realized we needed to simplify the advanced editor."
Bojko finds her work fascinating because every project yields surprising or interesting results. When her UX team was testing Indiegogo's Generosity, a new site for nonprofit and personal-cost fundraising campaigns, they found that customers were offended by site's use of the word "charity." They did not want it associated with their fundraising. They felt that charity is perceived as a handout, and most felt their work funded basic human rights and needs projects.
"They associated themselves more with entrepreneurs than with charities, which I think is a very interesting take on a nonprofit," Bojko said.
Discovering solutions for people's problems is what first attracted Bojko to the field and keeps her interested in her job today. "I admit that I like to be the one who knows the answers," she said. Of course, she can't just rattle off the answers to all of her colleagues' questions, but she enjoys figuring out which tools and methods to use to get them. "I like solving the puzzle," she said. "And when I do, I'm the person with the answers. I like that."