Embracing SOA and the cloud: Hybrid integration paradigms offer choices
Some organizations are turning to hybrid integration paradigms to leverage cloud computing while maintaining existing infrastructures.
The rise of the cloud has brought improved costs and time-to-market advantages for many types of enterprise applications. At the same time, other issues around maintaining legacy applications, security and governance have limited the utility of the cloud for many scenarios. A number of organizations are turning to hybrid integration paradigms in order to leverage the advantages of cloud computing while maintaining their existing infrastructures.

Download this free guide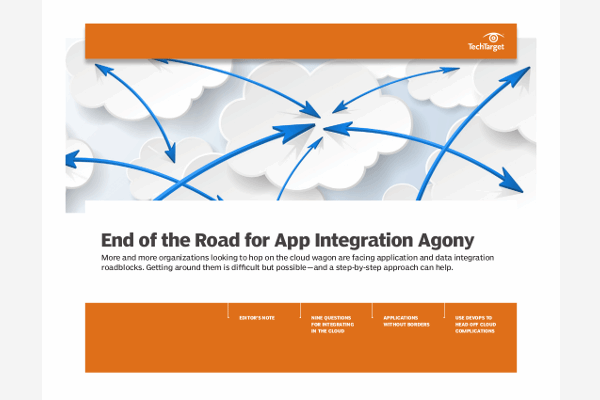 Download Our Guide: Application Integration for SaaS Adoption
More and more organizations looking to hop on the cloud wagon are facing application and data integration roadblocks. Getting around them is difficult but possible—and a step-by-step approach can help.
For example, Mohawk Inc., a $300 million specialty paper supplier, realized they needed to leverage the cloud to navigate changes in the paper industry. In 2010, Paul Stamas, CIO and VP of IT at Mohawk Inc., began looking at traditional middleware solutions that might bridge their internal systems and a myriad of external systems of customers, business partners and cloud service providers.
The cost and complexity of these types of tools was overwhelming. They were looking at millions of dollars in investment and growing the IT department to keep these systems running. "Many of the major ERP vendors have been promoting SOA internally, but have not done a good job of promoting integration to other systems," said Stamas. "SOA has not become a reality from big ERP players, so you need to go to an independent, neutral place to get this."
Bridging the gap
After a laborious search, Mohawk decided to use a cloud integration service from Liaison Technologies to bridge the gap between its internal systems, business partners and the cloud. The goal was to create a platform to enable business transformation that should be based on principles of SOA and cloud computing and the convergence of these trends.
"It was a multi-enterprise business integration play," said Stamas. "We don't look at it as application integration, but business integration. We are connecting the applications and systems of business partners and service providers. We wanted to embrace SOA and the cloud. SOA provides the abstraction for the applications. The cloud providers provide the abstractions for the hardware and scalability."
This hybrid approach allowed them to focus on managing the business process rather than the technology. They worked with Liaison to create services to do traditional APIs, file transfers, Web services and any-to-any integration. All of the integration was managed and implemented in the cloud, reducing the need for beefing up Mohawk's on-premise infrastructure.
This type of integration would have been far more challenging and costly to do in-house, argued Stamas. Many APIs come with 20-40 pages of instructions. "A cloud brokerage abstracts you from that complexity, which allows you to focus on what is important -- providing business value to meet strategic needs and goals."
The emerging role of the IT function is to manage tools. The combination of cloud and SOA provides an abstraction that makes it easier to manage business goals. Stamas said, "We don't need to be good at managing the services and applications. We need to focus on how we construct and optimize the business processes that support our customers. It will be a hybrid environment. It is just a matter of degree."
Approaching hybrid integration
These same sentiments are echoed by Saurabh Sharma, senior analyst at Ovum. He explained that even though traditional integration approaches can support current integration needs, their long-term viability may be uncertain.
At times, on-premise integration middleware is the only suitable option.

Saurabh Sharma
There are several ways to approach hybrid integration issues or those created by the rapid rise of social, mobile and cloud platforms. The simplest and most practical approach is to combine established and cloud-based integration approaches. In this simplest case, this might just involve a combination of enterprise service bus (ESB) or SOA and Integration Platform as a Service (iPaaS).
IPaaS can be used for integration scenarios that do not involve data-intensive transactions and/or low-latency messaging, and where faster time-to-value is a critical requirement. iPaaS should be the primary approach for SaaS-to-SaaS, SaaS-to-on-premise and less-complex B2B and social integration, said Sharma.
SOA and other traditional approaches, such as extract, transform, load and electronic data interchange, are well suited to the needs of data-intensive transactions. Several ESBs available in the market can support low-latency messaging, diverse message transformations and protocol switching in real-time.
This can hardly be matched by any other capability delivered via the cloud, said Sharma. "At times, on-premise integration middleware is the only suitable option, because compliance and regulatory requirements prohibit movement of integration data to the cloud," he explained.
Many challenges to consider
One of the challenges is the identification of an approach best suited to each individual integration scenario. Another challenge is to ensure an optimal distribution of integration processes (across on-premise and cloud-based integration processes) according to workload requirements, which helps achieve significant TCO (total cost of ownership) savings and an efficient utilization of operational budgets.
It is important to consider at what average workload would the TCO for cloud-based integration platforms surpass that for on-premise middleware or how to develop a plan for gradually shifting appropriate integration processes to the cloud. Making the transition can require a cultural change in which integration practitioners need to develop skills suited to cloud-based integration. Sharma said, "Most of the integration practitioners have development skills related to specific middleware platforms and need to shift focus on a relatively easier and lightweight but still new integration platform or style of integration."
Best practices for hybrid integration
IT should take into account the nature and complexity of integration needs to identify gaps in existing integration capabilities. Once this is done, IT should select a suitable integration approach for delivering integration capabilities on time and within the allocated budget.
The selection of a suitable integration approach or solution is no easy task, noted Sharma. Organizations should consider budget, implementation time, the complexity of implementation process, range of integration scenarios supported, short- and long-term viability, scalability and maturity. IT should analyze TCO savings that could be realized by using a suitable combination of on-premise and cloud-based integration platforms.
In the long run, Sharma believes it is important IT develops a plan for gradually shifting appropriate integration processes to the cloud. Not all integration processes can be shifted to the cloud, especially because organizations need to comply with data security and privacy-related regulations.
In cases where workloads increase gradually, a hybrid integration strategy will result in significant TCO savings. The TCO for cloud-based integration platforms will surpass that for on-premise middleware beyond a certain value for average workload. In conditions such as these, data-intensive and low-latency transactions should be supported by on-premise middleware, and cloud-based integration platforms should only be used for supporting less data-intensive transactions.
Only a suitable combination of traditional and cloud-based integration platforms can fulfill the complex requirements of many IT infrastructures and business demands. "A well-planned integration strategy that involves the selection of an approach best suited to each individual integration scenario will ensure that integration projects deliver the desired end-to-end functionality in the most cost-effective and time-efficient way," said Sharma.
About the author:
George Lawton is a journalist based near San Francisco. Over the last 15 years, he's written more than 2,000 articles on computers, communications, business and other topics. Find out more at glawton.com.
Follow us on Twitter at @SearchSOA and like us on Facebook.