Get started
Bring yourself up to speed with our introductory content.
The API lifecycle: A look at planning to production
Introduction
APIs are nothing new, but they are finding a new importance in the enterprise software and application management scene. APIs have proven to be an integral part of B2B integration, internal operations, data management, application and service development, and other critical areas across a wide variety of industries. As they become more important, the ability with which an organization manages the API lifecycle is sure to be a strong competitive factor.
We've put together this guide to help CIOs, developers, engineers, testers and other software professionals understand more about the API lifecycle and what it means to take each step properly. Here you will find content from our contributing experts that reviews the API planning process, development process and post-production process in ways that can help you understand what it takes to create and maintain APIs that add real business value.
So, read on, learn and don't forget to test your knowledge with our own quiz on API development and management.
1

Planning API builds

-
Determining use cases
APIs can serve a variety of functions, but which functions are the ones you need? Before it's time to bring your API to life, it's important to make a plan, and a big part of this is determining exactly what business functions or needs you want your API to address. By doing so, you will ensure that you do not waste precious time and money creating APIs that may unnecessarily drain resources, take unnecessary time to version and maintain, or simply take up needed space in your API ecosystem.
This section features several articles that explore the decision-making and planning processes that help businesses figure out where they should put their effort when planning their API builds. Dive in to learn why having a development and management strategy is critical to the API lifecycle, how to pick the right use cases and what kind of role they can realistically play in the enterprise market.
2

Building APIs

-
Putting together your API portfolio
You've got your plan, so now it's time for the next part of the API lifecycle -- putting your APIs together and integrating them with your existing software. While there are plenty of tools and services available to help expedite and simplify your API development process, it's still critical that developers adhere to principles and strategies that can help prevent integration issues, provide easier management down the line and help you create the best API possible.
This section features expert advice on the API development and production processes. Access the content here to learn about why developers need to consume the APIs they create, how to designate the roles teams play in building an API portfolio, exclusive tips for RESTful APIs, the importance of official API clients and more.

Download this free guide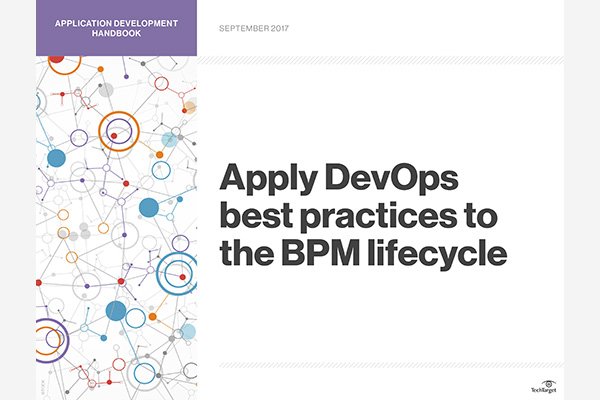 Instant download: Applying DevOps to the BPM lifecycle
Modern BPM systems must be compatible with the DevOps approach and employ DevOps best practices to aid application development.
By submitting your personal information, you agree that TechTarget and its partners may contact you regarding relevant content, products and special offers.
You also agree that your personal information may be transferred and processed in the United States, and that you have read and agree to the Terms of Use and the Privacy Policy.
3

Maintaining APIs

-
Deployment and testing
You've made your plan and your APIs are developed. But this isn't the end of the API lifecycle -- now you are required to keep these APIs up and running with proper maintenance and appropriate versioning. Tools and services are making it easier to automate and simplify API maintenance tasks, but those responsible for maintaining APIs should still follow practices that ensure efficiency, performance and reliability.
This section features content from our contributing experts that will help you learn more about how to strengthen API security, testing, versioning, migration and other critical aspects of post-production management. Read on to learn more.
4

Put it to the test

-
API creation and management quiz
Think that you're up to speed on API planning, development and post-production management? The quiz in this section will put your API know-how to the test, featuring questions about numerous aspects of the API lifecycle. Try it out and see what you know and where, if needed, you can improve your knowledge.
Let's get started
5

API terminology

-
A glossary of API terms
This section provides a list of terms and phrases that apply to APIs and their management. Read on to find out what these terms mean and why they may be important to your API management strategy.