Manage
Learn to apply best practices and optimize your operations.
Taking a look at today's API management services and strategies
Introduction
There aren't many, if any, software professionals out there today who would discount the importance of APIs and API management. And many of those same software professionals will tell you that APIs have been important for a long time. But talk about their importance has shifted from being a conversation held in tucked-away IT offices to a topic discussed at business strategy meetings among C-level execs. And more and more vendors are pushing API management services as a critical part of staying competitive.
As such, the burden is on software teams to create an API management strategy that not only keeps applications and services running smoothly, but allows the business to find new revenue streams and opportunities for growth, including turning the APIs themselves into assets the business can market and make money from. This may also mean leveraging API management services, a marketplace that is experiencing significant transformation due to vendor acquisitions and changes in strategy.
This guide will walk you through some of the mindsets and strategies behind API management services that not only efficiently maintain APIs, but turn those APIs into a source of value for the company rather than a management burden. It will also take a look at some of the shifts in the API management services market that indicate a change in thinking around APIs by certain companies.
1

Creating API strategies

-
API management services: Getting started
API management strategies are a hot topic right now. But do you really need one? And what does it take to create an API management strategy that actually turns APIs into a business asset rather than a management burden? These articles will help you find out.
Blog Post
APIs are becoming the backbone of many infrastructures, but IT departments often lack the means to manage, track, and secure their API portfolios. APIs are the glue between on-premises and ... Continue Reading
Feature
APIs are enjoying a ubiquitous lifestyle and becoming the main entryway to the digital business. Continue Reading
Blog Post
When formulating an API strategy, there are three questions organizations should ask themselves. Answering them should help set that strategy in the right direction and optimize the value of your APIs. Continue Reading
2

Developing APIs

-
Leveraging API management services
Part of API management means possibly developing and versioning your own APIs. While there are lots of tools, organizations need to be aware of hidden complexities created by both technology and people processes. These articles will help shed light on some specific areas teams should focus on when it comes to working with API management services.
Tip
Having multiple API versions is necessary when trying to break change into an existing API. Find out steps to ensure success. Continue Reading
Blog Post
Discover the hidden costs and complexities of API and microservices development and management, as well as some technologies that help software pros reduce those costs. Continue Reading
Tip
APIs play a critical role in cloud, allowing apps and services to communicate with each other. But with multiple cloud providers in the mix, API management gets complicated. Continue Reading

Download this free guide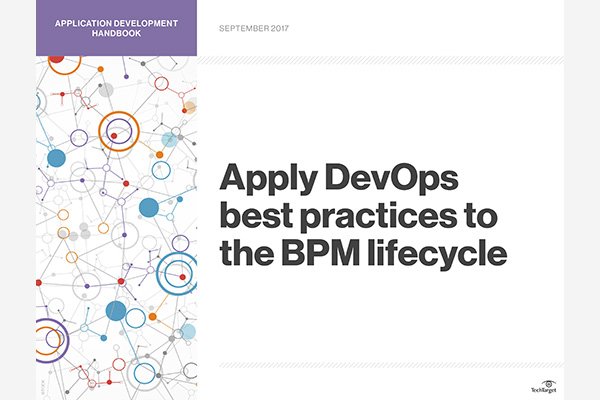 Instant download: Applying DevOps to the BPM lifecycle
Modern BPM systems must be compatible with the DevOps approach and employ DevOps best practices to aid application development.
By submitting your personal information, you agree that TechTarget and its partners may contact you regarding relevant content, products and special offers.
You also agree that your personal information may be transferred and processed in the United States, and that you have read and agree to the Terms of Use and the Privacy Policy.
3

API management vendors

-
API management services: Looking at providers
Acquisitions of API management providers by large companies such as Google have not just shaken up the market -- they say something about the importance of API management. These articles provide a look at the Google acquisition of Apigee and what these types of acquisitions mean for the market and for those who rely heavily on API management.
Tip
By acquiring Apigee's API platform, Google can augment its infrastructure-as-a-service offering, add enterprise mobility connections and tap into Apigee's solid customer base. Continue Reading
Podcast
Suraj Kumar of Axway isn't too positive about the acquisition of Apigee. But while Google may be acting like the Borg, it may indicate a needed shift in Google's attitude. Continue Reading
News
Google API management tools get a major upgrade with Apigee to support designing and maintaining APIs to fit enterprise needs -- plus the chance to one-up market leader AWS. Continue Reading
4

API: What's the lingo?

-
API management services terms
This glossary section delves into common terms that are used in API management services. Check out the list.