Get started
Bring yourself up to speed with our introductory content.
SOA BPM guide: Mobile, cloud drive BPM, BPEL changes
This guide provides advice for using SOA BPM and BPEL, plus reports noteworthy trends about the technology
Introduction
Innovative leaders know the important role technology plays in everyday business operations. Many managers immersed in IT are turning to business process management (BPM) as a means to move their organization forward. SOA BPM can be a powerful tool in keeping operations in sync with client wants and needs. More so than traditional management styles, BPM focuses on reducing human mistakes, promoting efficiency and integration with technology.
1

Things to know

-
Expert advice: Working with SOA BPM, BPEL
Technology leaders are using BPM as an efficient means to keep up with the ever-changing needs of their organization. Before you jump in to using BPM and/or BPEL, take a look at some advice to ensure your implementation goes smoothly.
2

BPM and BPEL developments

-
Top trends to watch for in BPM and BPEL
Technology is always evolving and the state of SOA BPM and BPEL isn't an exception. Read on to find out the latest industry trends.
Feature
Business process execution language hasn't changed much over the past few years, but it has received more attention from vendors. Continue Reading
Feature
Leaders from Eccentex discuss how knowledge workers and the BYOD trend may drive cloud-based dynamic case management. Continue Reading
Answer
It's important not to let solid governance practices be limited to SOA, because deficiencies in other areas impact efforts. Continue Reading

Download this free guide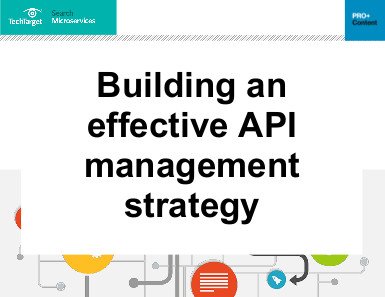 Components of an effective API management strategy
We're using more APIs than ever before, and you need one central location to monitor their security, application connections, and traffic. Open this guide to see what makes an effective API management strategy.
3

Mobile BPM

-
How mobile is revolutionizing SOA BPM
Look around in any public area and you're likely to see someone using a mobile device. So, it should come as no surprise that mobility has become an important development in BPM. Check out the videos in this section to learn how mobile is shaping the BPM landscape.
Video
Red Hat's Rich Naszcyniec and JBoss' Jason Andersen delve into integration and BPM middleware platform trends.
Video
In this videocast, Forrester Research Senior Analyst Clay Richardson describes why and how to mobilize critical business processes. Part 1 of 2.
Video
Richardson offers expert advice on developing a strategy for mobile BPM. Part 2 of 2.
4

Definitions

-
Must-know: Key BPM and BPEL terms
This glossary contains common terms related to SOA BPM and BPEL that any industry professional should be well-versed in.
5

Quiz

-
Test your Mobile BPM IQ
How much of this BPM and BPEL guide did you absorb? Find out if you still need to brush up with this six-question quiz.
Take This Quiz