Get started
Bring yourself up to speed with our introductory content.
A DevOps tutorial on migrating to microservices
Introduction
Microservices have solidified their place as a key part of modernizing applications, accelerating development cycles and optimizing an organization's ability to perform maintenance on services. However, architects and developers who are just jumping into microservices need to consider important factors, such as how the introduction of microservices affects an enterprise architecture, how to decide what parts of the business should be run as microservices, the management and security challenges that can arise and the critical role that APIs are going to play in successfully deploying apps as microservices.
The content featured in this essential guide will help DevOps teams, small or large, understand the considerations that need to be taken prior to migration to microservices, prepare for the challenges that come along with the introduction of a distributed architecture and discover why and how APIs and API management will be such an important area of focus.
Whether you are a team just thinking about migrating to microservices, in the middle of development or simply want to brush up your knowledge about the subject, let our experts be the ones to guide you in the right direction.
1

Does it make sense?

-
Deciding whether microservices are right for you
Many organizations are quickly finding that they can do better by moving applications away from a monolithic architecture. However, before chasing the benefits of migrating to microservices, DevOps teams need to determine exactly which apps and services are candidates and how the decision to distribute the architecture will help -- or potentially hurt -- the organization.
The articles in this section guide you in deciding what parts of your business are the most appropriate for microservices and which ones are not. Experts review the strongest use cases for microservices, as well as situations where it may not be the ideal architecture choice. You'll also find a look at how the introduction of microservices will benefit your enterprise architecture as a whole.
2

Preparing for adoption

-
What to expect when microservices are introduced
As with any other technology, there is nothing automatic about migrating to microservices. Architecture distribution not only brings its fair share of management complexities but can even bring unforeseen security implications as well. Meeting these challenges successfully requires a clear understanding of what's ahead and the tools and techniques that will help you deal with them appropriately.
This section features articles that focus on the challenges DevOps teams are likely to face when making the switch to microservices, including the risk of creating a "distributed monolith" and the issues teams face in "right-sizing" microservices. You'll also discover how to properly frame governance for microservices and how to deal with the potential security pitfalls microservices may introduce.

Download this free guide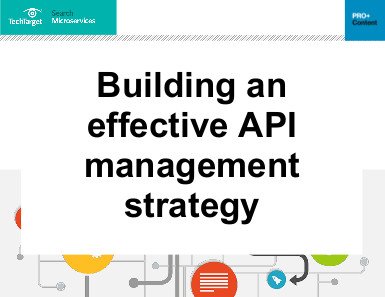 Components of an effective API management strategy
We're using more APIs than ever before, and you need one central location to monitor their security, application connections, and traffic. Open this guide to see what makes an effective API management strategy.
3

The API connection

-
Understanding the role of APIs in microservices
The introduction of microservices means that DevOps teams will need to think hard about a particular aspect of application management: APIs. When applications get distributed into small services, managing the APIs responsible for the functionality of those services becomes increasingly critical.
The articles in this section review the intricacies involved with API management when it comes to microservices, how to manage APIs and microservices holistically, some design principles that are essential for microservices and what the latest buzz is around the APIs used to manage messaging between distributed services.
4

The language of microservices

-
Terms and concepts related to microservices
Part of successfully migrating to microservices is understanding the related terminology. This section helps you familiarize yourself with some of these key terms.