Definition
forward compatible
Also see backward compatible.

Forward compatible describes a system that is designed in such a way that it fits with planned future versions of itself. Forward compatible usually implies that dependent systems, such as application programs developed for a specific operating system, will work in a satisfactory way in future as well as in the current, forward compatible system.

Download this free guide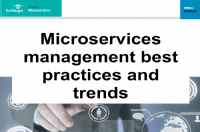 PDF: Best practices for managing microserivces
Get ahead of the learning curve, This exclusive microservices handbook includes an objective analysis of the best tips and practices for managing and monitoring microservices architecture.
Dig Deeper on Microservices pattern, platforms and frameworks