Definition
ORBS (Open Relay Behavior-modification System)
A similar but unrelated term is ORB (Object Request Broker).
ORBS (Open Relay Behavior-modification System) is (or possibly was - as of June 7, 2001, it was not operating) a volunteer-run New Zealand-based organization that operates an anti-spam screening service. The ORBS database tracks e-mail (specifically SMTP) servers that allow third-party relay (TPR), a practice that makes it possible for any sender to connect to the server from anywhere and forward volumes of unsolicited bulk e-mail messages. As a further precaution, ORBS also tracks networks that have set up processes to prevent verification of third-party relay permission, since administrators sometimes find it easier to block ORBS testers than to address security problems.

Download this free guide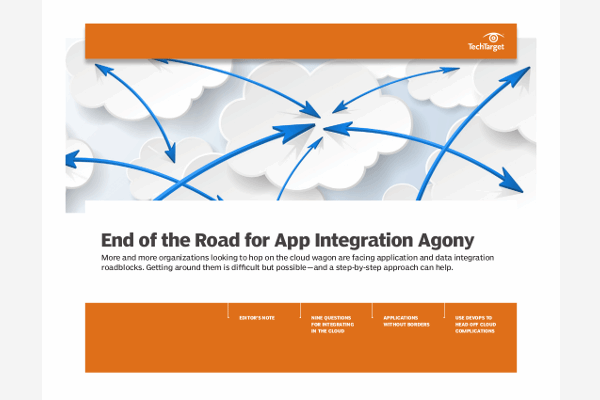 Download Our Guide: Application Integration for SaaS Adoption
More and more organizations looking to hop on the cloud wagon are facing application and data integration roadblocks. Getting around them is difficult but possible—and a step-by-step approach can help.
By submitting your personal information, you agree that TechTarget and its partners may contact you regarding relevant content, products and special offers.
You also agree that your personal information may be transferred and processed in the United States, and that you have read and agree to the Terms of Use and the Privacy Policy.
In the first years of the Internet's operation, third-party relaying was a necessary and accepted means of routing messages. Although technological advances have made third-party relaying no longer required, many servers continue to maintain open relays, according to ORBS, in the "Internet's spirit of cooperation." According to ORBS, however, an open relay now falls into the category of "attractive nuisance." The organization claims that since 1995, the culture of the Web has changed dramatically, with the result that open relays became vulnerable to spammers looking to make a quick profit through bulk junk mail.
ORBS maintains a blacklist of Internet service providers (ISPs) and other organizations found in violation of their criteria, a practice that is somewhat controversial because the targeted enterprises often believe they have been listed unfairly. In one recent instance, a New Zealand high court ruled that ORBS must remove Xtra mail servers (owned by Actrix, an New Zealand-based ISP) from their list of suspect servers. ORBS is in occasionally acrimonious competition with a similar system based in California, the Mail Abuse Prevention System (MAPS). The two organizations clashed when ORBS blacklisted Above.net (an ISP owned by Paul Vixie, who also runs MAPS) as an open relay.
Continue Reading About ORBS (Open Relay Behavior-modification System)
Dig Deeper on Application integration architecture
PRO+
Content
Find more PRO+ content and other member only offers, here.