News
Stay informed about the latest enterprise technology news and product updates.
Readers, say hello to SearchMicroservices.com
Dear Readers,
We're excited to inform you about an upcoming change to our site. On Thursday, January 19th, SearchSOA.com will officially change to SearchMicroservices.com. Likewise, the SOA Talk blog will become the Microservices Minute blog. You'll also see some other changes, such as a new Twitter handle, @MicroservicesTT, and a new RSS feed called "News on microservices and service management."

Download this free guide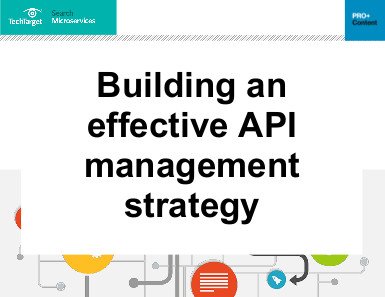 Components of an effective API management strategy
We're using more APIs than ever before, and you need one central location to monitor their security, application connections, and traffic. Open this guide to see what makes an effective API management strategy.
Don't worry — we are not going to stop producing content focused on application development within the enterprise, which in many cases still revolves around concepts like SOA and web services. However, we will give the site and blog a more forward-looking direction heading into the new year. As a vital part of how DevOps teams are accelerating application deployment and change management, microservices has earned increased focus in our coverage.
What's our mission with the new site? First, we want to focus on the wide breadth of microservices and related application development technologies, such as containers, cloud and APIs. We also want to provide decision makers with an independent perspective on how best to evaluate microservices trends and features. Finally, we want to act as a resource for microservices professionals to gain further knowledge about the technology and interact with other engaged members of the community.
Thanks for your continued readership, and please don't hesitate to reach out with any questions about the site.
– The editors at SearchSOA.com (soon to be SearchMicroservices.com)