Manage
Learn to apply best practices and optimize your operations.
SOA without MDM: GIGO 2.0?
The garbage in, garbage out mantra is playing out again as application developers and service-oriented architectureadvocates use master data management to ensure their complex, integrated systems are working on the right information. Read this five-part special report to see how the synergy of SOA and MDM can improve an SOA and may change the way BPM is performed.
Looking for something else?
TECHNOLOGIES
The garbage in, garbage out mantra is playing out again as application developers and SOA advocates use master data management (MDM) to ensure their complex, integrated systems are working on the right information.

Download this free guide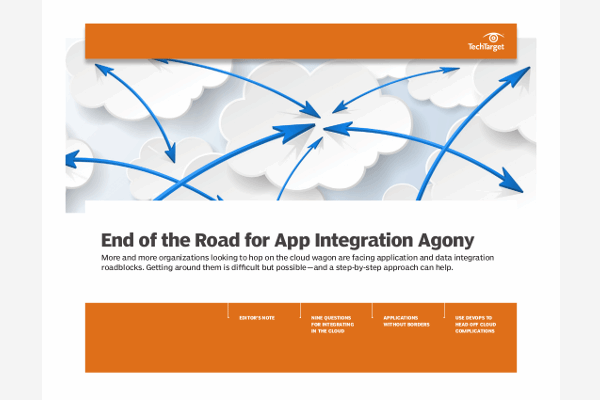 Download Our Guide: Application Integration for SaaS Adoption
More and more organizations looking to hop on the cloud wagon are facing application and data integration roadblocks. Getting around them is difficult but possible—and a step-by-step approach can help.
By submitting your personal information, you agree that TechTarget and its partners may contact you regarding relevant content, products and special offers.
You also agree that your personal information may be transferred and processed in the United States, and that you have read and agree to the Terms of Use and the Privacy Policy.
This SOA-MDM story played out before in data warehousing, when analytical data stores were created to provide a valid view of the state of the organization. There was a lot of argument about what an order entry was, or how many fields should represent a customer location, but things were resolved and data warehousing flourished.
Now the same issue is paramount in the SOA space, where business operations in the form of loosely coupled applications (and some not-so-loosely coupled applications) are integrated—sometimes on the fly. So, the hunt for good, clean, valid data is on again! With, of course, a few new twists.
In this five part special report, get the facts about SOA and MDM.
Part 1: SOA with MDM prevents messaging confusion
Disagreements between IT and LOB on how to define and organize data can often cause SOA projects to fail before they begin. Master data management ensures that SOA projects are done right by organizing data consistently across the organization.
Part 2: SOA and MDM: New techniques address old problems
MDM is still a young technology, but the issues it addresses have been around for years. Whereas data definition was historically aligned with BI initiatives, the emergence of MDM with SOA has empowered architects to make trustworthy data available in realtime for multiple purposes.
Part 3: Data architecture project practices with SOA and MDM
Though the benefits are numerous, the complexity of SOA with MDM can also lead to serious problems. The best plan may be to combine MDM with SOA in a long-term project with an iterative approach, rather than risk failure from taking on too much too soon.
Part 4: MDM brings SOA and BPM closer together
SOA and BPM have often cross paths, so bringing SOA and MDM together means that MDM and BPM may blend as well. BPM with MDM can give business users more power to use and analyze data.
Part 5: With MDM and BPEL, business users become data stewards
Business users were once disallowed from manipulating data, but more evolved process hubs and BPM-oriented BPEL business rules engines can get business users directly involved with data management.
Dig Deeper on Holistic governance, risk and compliance (GRC)
PRO+
Content
Find more PRO+ content and other member only offers, here.