Get started
Bring yourself up to speed with our introductory content.
Quiz #26: Storage Smarts
Are you storage smart? Find out by having a bit of fun with this quiz covering storage. From flash to ram to virtual -- take a few minutes to test your knowledge.
This Article Covers
RELATED TOPICS
Looking for something else?

---
How to take the quiz:
- After reading the question, click on the answer that you think is correct to go to the whatis.com definition. If the answer you've chosen is correct, you will see the question text somewhere in the definition.
OR
- After reading the question, write down the letter of your answer choice on scrap paper. Check your answers by using the answer key at the end of the quiz.

Download this free guide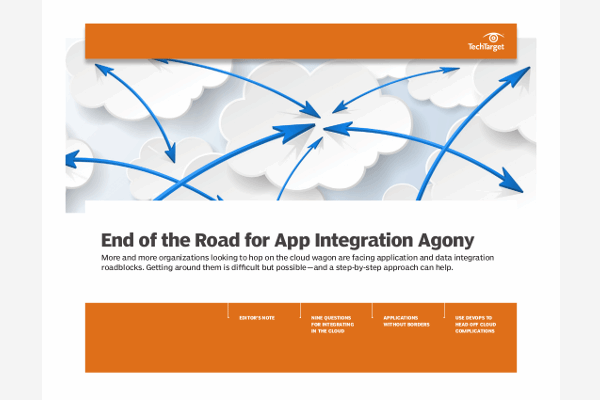 Download Our Guide: Application Integration for SaaS Adoption
More and more organizations looking to hop on the cloud wagon are facing application and data integration roadblocks. Getting around them is difficult but possible—and a step-by-step approach can help.
By submitting your personal information, you agree that TechTarget and its partners may contact you regarding relevant content, products and special offers.
You also agree that your personal information may be transferred and processed in the United States, and that you have read and agree to the Terms of Use and the Privacy Policy.
---
1. This is a general term for all forms of solid state memory that have a continuous source of power and do not need to have their memory contents periodically refreshed.
a. flash memory
b. random access memory
c. volatile memory
d. nonvolatile memory
2. This type of data storage uses laser beams to store computer-generated data in three dimensions. The goal is to store a lot of data in a little bit of space.
a. Digital Data Storage
b. virtual memory
c. holographic storage
d. optical disk storage
3. This is a set of evolving ANSI standard electronic interfaces that allow personal computers to communicate with peripheral hardware such as disk drives, tape drives, CD-ROM drives, printers, and scanners faster and more flexibly than previous interfaces.
a. ESCON
b. Fibre Channel
c. SCSI
d. ASCII
4. This is the process of dividing a body of data into blocks and spreading the data blocks across several partitions on several hard disks.
a. disk striping
b. RAID
c. logical partitioning
d. multiplexing
5. This amount of data is the equivalent of more than 300 feature-length movies, 40,000 faxes, 15,000 CDs converted to MP3 at high fidelity, or enough words that it would take every adult in America speaking at the same time for five minutes to say them all.
a. petabyte
b. terabyte
c. exabyte
d. megabyte
6. This is the practice of duplicating data in which each of multiple storage disks has its own SCSI controller. The use of redundant controllers enables continued data access as long as one of the controllers continues to function.
a. disk mirroring
b. disk duplexing
c. data replication
d. content caching
7. This is a compact disc (CD) format that allows repeated recording on a disc. It was introduced by Hewlett-Packard, Mitsubishi, Philips, Ricoh and Sony in a 1997 supplement to Philips and Sony's Orange Book. It is Orange Book III.
a. CD-RW
b. CD-MO
c. CD-R
d. CD-i
8. This type of storage media holds content in digital form that is written and read by a laser; these media include all the various CD and DVD variations, as well as optical jukeboxes and autochangers.
a. streaming media
b. magneto-optical drive media
c. real life media
d. optical media
9. This is the combination of hardware and software that moves data coming in to a network node out by the correct port (door) to the next node in the network.
a. router
b. gateway
c. switching fabric
d. bus
10. This is a standard unit of measure for designating the height in computer enclosures and rack cabinets. It equals 1.75 inches.
a. GB
b. U
c. kludge
d. n-tier
SCROLL DOWN FOR ANSWER KEY

Be sure to take:
Quiz #1: Help Desk Basics
Quiz #2: Security Basics
Quiz #3: Data Storage
Quiz #4: Networking Hardware
Quiz #5: Getting Your Message Across the Network
Quiz #6: Servers
Quiz #7: Protocols
Quiz #8: Database Basics
Quiz #9: Wireless
Quiz #10: TCP/IP
Quiz #11: Ego-Booster
Quiz #12: Database II
Quiz #13: AS/400
Quiz #14: Peripherals
Quiz #15: HP
Quiz #16: Web Management Basics
Quiz #17: DSL
Quiz #18: Do you know me? You should!
Quiz #19: Artificial Intelligence
Quiz #20: Cryptography
Quiz #21: We're Going to the Zoo!
Quiz #22: Web Site Performance
Quiz #23: Firewalls
Quiz #24: Web Services
Quiz #25: Security
Quiz #26: Storage Smarts (you're on this quiz now)
ANSWER KEY: 1d - 2c - 3c - 4a - 5b - 6b - 7a - 8d - 9c - 10b

Let us know how you did and suggest a topic for a future quiz! contactus@whatis.com
Dig Deeper on Service-oriented architecture (SOA)
PRO+
Content
Find more PRO+ content and other member only offers, here.