Get started
Bring yourself up to speed with our introductory content.
Quiz #25: Security Attacks
Ignorance definitely isn't bliss when it comes to security. Take this fun quiz and see how much you really know about security attacks.
This Article Covers
RELATED TOPICS
Looking for something else?

---
This week's quiz has a slightly different format. Your goal will be to match the correct term in the left-hand column with its description in the right-hand column.

Download this free guide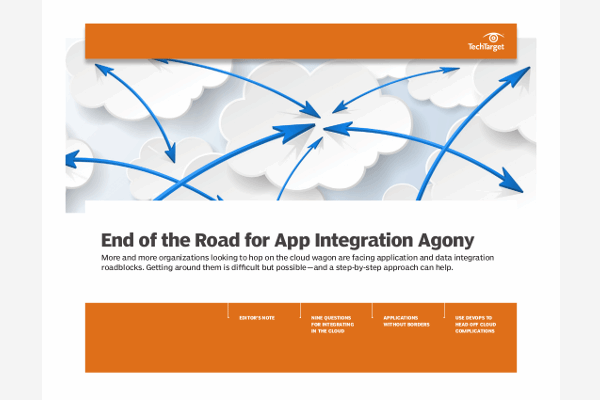 Download Our Guide: Application Integration for SaaS Adoption
More and more organizations looking to hop on the cloud wagon are facing application and data integration roadblocks. Getting around them is difficult but possible—and a step-by-step approach can help.
By submitting your personal information, you agree that TechTarget and its partners may contact you regarding relevant content, products and special offers.
You also agree that your personal information may be transferred and processed in the United States, and that you have read and agree to the Terms of Use and the Privacy Policy.
How to take the quiz:
- After reading the question, click on the answer that you think is correct to go to the whatis.com definition. If the answer you've chosen is correct, you will see the question text somewhere in the definition.
OR
- After reading the question, write down the letter of your answer choice on scrap paper. Check your answers by using the answer key at the end of the quiz.
---
a) white hat
b) smurf attack
c) honey pot
d) pulsing zombie
e) Back Orifice
f) shoulder surfing
g) dumpster diving
h) rootkit
i) war driving
j) bucket brigade
k) sandbox
l) Blowfish
m) anonymous FTP
n) brute force
o) hacktivism
p) chaffing and winnowing
q) cracker
r) crosstalk
s) weenie
t) walled garden
u) snoop server
v) Carnivore
1._____ To prevent this simple, but effective, security attack, experts recommend that you shield paperwork or your keypad from view by using your body or cupping your hand.

2. _____In this kind of attack, an intruder might intercept messages in a public key exchange and then retransmit them, substituting their own public key for the requested one.

3._____ This is a computer whose security has been compromised so that it intermittently carries out a denial-of-service attack on other targeted computers.

4._____ In order to identify security risks, you might want to use one of these to place network interfaces into promiscuous mode -- which allows the system to access all the data in each network packet.

5. _____This is a computer system on the Internet that is expressly set up to attract and "trap" people who attempt to penetrate other people's computer systems.

6. _____Created by a group of hackers called the Cult of the Dead Cow, this Windows application allows someone at one computer to control everything on another, remote computer.

7._____ This denial of service attack sends a ping message addressed to an IP broadcast address. Enough pings and resultant echoes can flood the network and make it unusable for real traffic.

8._____ Because the range of a wireless LAN sometimes extends outside a company's office building, a hacker might try to use this technique to obtain a free Internet connection or gain access to company records and other resources.

9._____ A sophisticated intruder might install this collection of tools on a computer in order to mask his or her presence.

10._____ This kind of attack can be tough to prosecute if the intruder insists that their behavior is the equivalent of a protest and should be protected as a form of free speech.
SCROLL DOWN FOR ANSWER KEY

Be sure to take:
Quiz #1: Help Desk Basics
Quiz #2: Security Basics
Quiz #3: Data Storage
Quiz #4: Networking Hardware
Quiz #5: Getting Your Message Across the Network
Quiz #6: Servers
Quiz #7: Protocols
Quiz #8: Database Basics
Quiz #9: Wireless
Quiz #10: TCP/IP
Quiz #11: Ego-Booster
Quiz #12: Database II
Quiz #13: AS/400
Quiz #14: Peripherals
Quiz #15: HP
Quiz #16: Web Management Basics
Quiz #17: DSL
Quiz #18: Do you know me? You should!
Quiz #19: Artificial Intelligence
Quiz #20: Cryptography
Quiz #21: We're Going to the Zoo!
Quiz #22: Web Site Performance
Quiz #23: Firewalls
Quiz #24: Web Services
Quiz #25: Security (you're on this quiz now)
ANSWER KEY: 1f - 2j - 3d - 4u - 5c - 6e - 7b - 8i - 9h - 10o

Let us know how you did and suggest a topic for a future quiz! contactus@whatis.com
Dig Deeper on Securing services
PRO+
Content
Find more PRO+ content and other member only offers, here.