Get started
Bring yourself up to speed with our introductory content.
Quiz #22: Web Site Performance
So, think you know something about Web site performance? Take this quiz to see how you stack up. You'll have some fun and maybe even learn a thing or two.
This Article Covers
RELATED TOPICS
Looking for something else?

---
How to take the quiz:
- After reading the question, click on the answer that you think is correct to go to the whatis.com definition. If the answer you've chosen is correct, you will see the question text somewhere in the definition.
OR
- After reading the question, write down the letter of your answer choice on scrap paper. Check your answers by using the answer key at the end of the quiz.

Download this free guide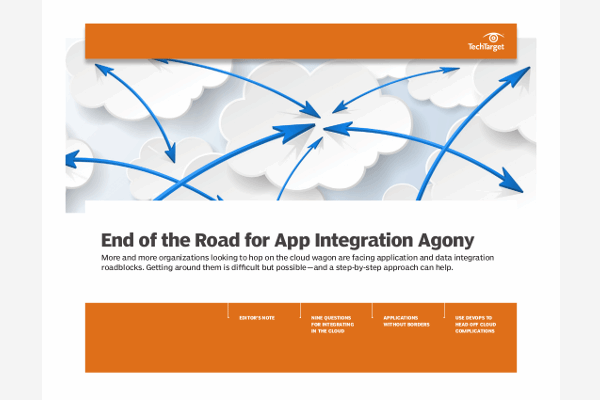 Download Our Guide: Application Integration for SaaS Adoption
More and more organizations looking to hop on the cloud wagon are facing application and data integration roadblocks. Getting around them is difficult but possible—and a step-by-step approach can help.
By submitting your personal information, you agree that TechTarget and its partners may contact you regarding relevant content, products and special offers.
You also agree that your personal information may be transferred and processed in the United States, and that you have read and agree to the Terms of Use and the Privacy Policy.
---
1. This is something you use to manage the content of a Web site.
a. Webmaster
b. slave
c. Content Scrambling System
d. content management system
2. This service copies the pages of a Web site to geographically dispersed servers so that when a page is requested, content is sent to the user from the closest server, enabling faster delivery.
a. distributed computing
b. content delivery
c. fast packet technology
d. multicast
3. This is dividing the amount of work that a computer has to do between two or more computers so that more work gets done in the same amount of time and end users get served faster.
a. clustering
b. routing
c. load balancing
d. peering
4. On a Web site, this is a technique you might use to move visitors to a new Web page when a URL has been changed.
a. Uniform Resource Identifier
b. common gateway interface
c. redirection
d. Active Server Page
5. This is a visual model of a Web site's content that allows the user to navigate through the site to find the information they are looking for.
a. site map
b. directory
c. image
d. model-view-controller
6. This is a hypertext link to a page on a Web site, other than its home page.
a. anchor
b. deep link
c. uplink
d. backlink
7. This is an application program that provides a way to look at and interact with all the information on the World Wide Web.
a. text editor
b. sprite
c. browser
d. sequencer
8. This is the business of housing, serving, and maintaining files for one or more Web sites.
a. colocation
b. hosting
c. infomediary
d. vertical portal
9. This is a Web site that allows registered users to upload files and save favorite bookmarks so that they can be accessed at any time from any computer on the Internet.
a. bookmark portal
b. roundtripping
c. jump page
d. blog
10. This is a place to store data temporarily. The files you automatically request by looking at a Web page are stored on your hard disk in this kind of subdirectory.
a. RAM
b. ROM
c. cache
d. capacitor
SCROLL DOWN FOR ANSWER KEY

Be sure to take:
Quiz #1: Help Desk Basics
Quiz #2: Security Basics
Quiz #3: Data Storage
Quiz #4: Networking Hardware
Quiz #5: Getting Your Message Across the Network
Quiz #6: Servers
Quiz #7: Protocols
Quiz #8: Database Basics
Quiz #9: Wireless
Quiz #10: TCP/IP
Quiz #11: Ego-Booster
Quiz #12: Database II
Quiz #13: AS/400
Quiz #14: Peripherals
Quiz #15: HP
Quiz #16: Web Management Basics
Quiz #17: DSL
Quiz #18: Do you know me? You should!
Quiz #19: Artificial Intelligence
Quiz #20: Cryptography
Quiz #21: We're Going to the Zoo!
Quiz #22: Web Site Performance (you're on this quiz now)
ANSWER KEY: 1d - 2b - 3c - 4c - 5a - 6b - 7c - 8b - 9a - 10c

Let us know how you did and suggest a topic for a future quiz! contactus@whatis.com
Dig Deeper on Microservices pattern, platforms and frameworks
PRO+
Content
Find more PRO+ content and other member only offers, here.