Search
Microservices
DeveloperWeek 2017 Conference Coverage
We went to San Francisco for the best advice, innovative strategies, and rising trends. Here's what we wrote down.
By submitting your personal information, you agree that TechTarget and its partners may contact you regarding relevant content, products and special offers.
You also agree that your personal information may be transferred and processed in the United States, and that you have read and agree to the Terms of Use and the Privacy Policy.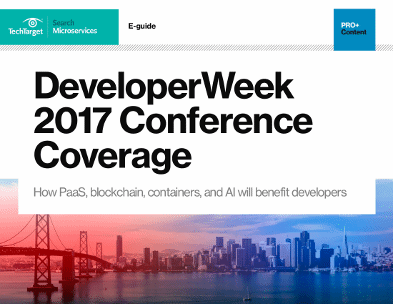 Get a full recap of how emerging tools will help developers guarantee governance and security, align software projects with business processes, and frankly, get more innovative work done with less effort.
Inside, we recall major themes that were discussed this year, including how:
The future of PaaS lies in finding better ways to bake compliance and controls into cloud infrastructure



Encryption and authentification features in the new Docker Swarm architecture can help prevent man-in-the-middle attacks



Blockchain efforts are helping developers secure faster financial transactions, with support from Amex, JPMorgan, and Wells Fargo



Data-driven apps are being used, and what to expect in the next 10 years



Deep learning and visualization can help developers craft algorithms with minimal effort and align code with business goals
Our favorite sessions tackled PaaS, containers, security, and artificial intelligence. Review key takeaways from the following presentations led by leaders in the application development industry:
KEYNOTE: PaaS 2017 - What's Ahead for Platform-as-a-Service

Presented by: Adam Gross, CEO at Heroku
Create a Distributed App Today With the Open Source HyperLedger Blockchain Software

Presented by: Sean Barclay, Creative Director at IBM Blockchain & co-creator of the open source Hyperledger Project
Managing Microservices Applications with Docker Engine Services

Presented by: Mike Goelzer, Senior Product Manager at Docker
Deep Learning for Software Development

Presented by: Steven Lowe, Principal Consultant at ThoughtWorks Inc.