News
Stay informed about the latest enterprise technology news and product updates.
SOA Podcast Library
The SearchSOA.com Podcast Library contains the podcast and video content SearchSOA.com has produced. Check back often for new additions and updates.
This Article Covers
RELATED TOPICS
Looking for something else?
All of SearchSOA.com's most recent podcast content can be found below in chronological order.
OMG CEO Soley on software modeling, fast data distribution
SearchSOA.com's Jack Vaughan caught up recently with Richard Solely, CEO at the Object Management Group (OMG), for a look at industry trends. Under discussion were recent OMG technical achievements, cloud computing, fast DDS middleware standards and the birthday of UML, the Unified Modeling Language, which turned 15 just last month. Industry veteran Soley posits UML and software modeling at the head of the class of technology game changers. Download the entire conversation as an MP3 podcast.
- 10 Oct 2012

Download this free guide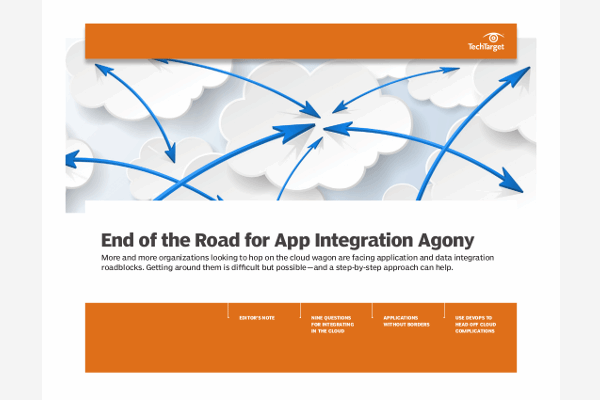 Download Our Guide: Application Integration for SaaS Adoption
More and more organizations looking to hop on the cloud wagon are facing application and data integration roadblocks. Getting around them is difficult but possible—and a step-by-step approach can help.
By submitting your personal information, you agree that TechTarget and its partners may contact you regarding relevant content, products and special offers.
You also agree that your personal information may be transferred and processed in the United States, and that you have read and agree to the Terms of Use and the Privacy Policy.
Succeed with BPMN modeling by avoiding extra complications
Neil Ward-Dutton is research director with MWD Advisors, based in Britain. Ward-Dutton is a BPM and business rules specialist who has dealt with every kind of integration issue over the years. In this podcast interview, our own Jack Vaughan asks Ward-Dutton about the general state of BPMN 2.0, where it is now, and where it's going. They discuss the complexity of the BPMN standards, executable models, and using BPMN to help deliver a seamless user experience on the front end. - 29 Feb 2012
A look at ''Service Design Patterns'': Q&A with Rob Daigneau
As mobile, cloud and SaaS platforms continue to spread, enterprise architects and developers increasingly turn to Web services to meet diverse information needs. But when it comes to designing those Web services, things have changed. Development team leaders face difficult decisions as they ponder use of REST and SOAP in special cases. Recently, SearchSOA.com's Jack Vaughan spoke with Rob Daigneau, whose new book Service Design Patterns offers solutions to the most common service design challenges—from how to create service APIs to addressing problematic latency. Rob has served in such prominent positions as director of architecture for Monster.com and manager of applications development at Fidelity Investments. He now holds the post of director of server applications for BlueMetal Architects. - 23 Feb 2012
Enterprise application development means more than just Java: Q&A with Forrester's Mike Gualtieri
Enterprise Application Managers and developers don't always see eye to eye. Programming productivity is one area of contention. Java developers understand Java very well and it's truly amazing what Web applications they can create but some enterprise applications meet limitations with what Java, as a language, can do. In this podcast, Mike Gualtieri of Forrester Research, whose recent comments about Java have made quite a stir, asserts that Java is a dead-end when it comes to enterprise application development. – 16 Feb 2011
Messaging middleware with Apache projects
This is an exciting time for Rob Davies. FuseSource was just launched as an independant company. At the same time, the book he's co-authored is scheduled for release in December. Right now, Davies is a very busy man. But he did make time to talk with us about his book, about messaging middleware, and about FuseSource's work with Apache projects as they move into greater independence as a company. – 27 Oct 2010
MDM and SOA: Batch updates give way to real-time updates
SearchSOA recently sat down with a few industry experts on master data management (MDM). The following podcasts look at current trends and approaches to MDM and provide advice from leading experts at Deloitte and Accenture. The experts discuss challenges associated with speed, volume, and frequency, and discuss how MDM can play an important role during a merger or acquistion. – 29 April 2010
SOA has not met expectation of joining business and IT says Open Group
In the first week of February, The Open Group held its yearly conference in Seattle. Chris Harding, head of The Open Group's SOA Working Group, said a big focus this year was on bridging the gap between the business and technical sides of service-oriented architectures. Since SOA was first created, people have spoken of it as something that would bridge the gap between IT and business. This, he said, has yet to happen in a major way. Hear how he believes this can happen in 2010. – 22 Feb 2010
Distributed data caches speed cloud applications
Even if it's on the cloud, accessing data can be a challenge for applications that rely on fast-changing information. But adding a storage layer between the database and the in-memory of an application may make getting to data easier. In this podcast, founder and CEO of ScaleOut Software William Bain explains how distributed data caches host data so that it can be accessed faster than if it were kept on the database. – 25 Jan 2010
Developing applications in the cloud with Force.com PaaS
When it comes to development on the Force.com Platform as a Service (PaaS), few are more knowledgeable than Jason Ouellette, creator of three of the most popular Force.com applications and author of the new book, Development with the Force.com Platform. Oulette talked to us about how to meet the challenges of programming business applications on the cloud. – 4 Dec 2009
SOA and Cloud Computing with David Linthicum
SearchSOA.com recently spoke with David Linthicum, author of the new book Cloud Computing and SOA Convergence in Your Enterprise, published by Addison Wesley. Linthicum has worked for many years in the IT industry and as an analyst, and is a respected writer and speaker within the enterprise computing. In this podcast, hear how cloud computing can enable SOA, and find out why organizations may be doing SOA on the cloud without even knowing it. – 13 Nov 2009
Forrester analysts talk SOA and BPM
SearchSOA.com sat down recently with Ken Volmer and Clay Richardson to talk about the interplay of BPM and SOA. In this podcast, get advice on how to navigate the market for BPM products, and learn how applying SOA principles can enhance BPM. Also, hear how emerging innovations, such as BPM-as-a-Service and business exception management, may change the way business processes are managed. – 27 Aug 2009
Enterprise mashup patterns can make data integration easier
Michael Ogrinz, author of Mashup Patterns: Designs and Examples for the Modern Enterprise, speaks about the current environment for mashup development and discusses in detail the capabilities enterprise mashups can provide for the enterprise. – 18 Aug 2009
Active Blazer Rob Davies on multicast software
Davies focuses on multicasting middleware and explains the somewhat unfamiliar concept, its uses and its details. Multicast as pursued in the Active Blaze open source software project is a form of specialized messaging used for collaboration between applications when distributing real time data is important. – 16 Mar 2009
BPM and Architecture - SearchSOA.com talks with Aleks Buterman, SenseAgility LLC
Aleks Buterman talks BPM in the context of SOA and Enterprise Architecture (EA). The podcast covers the sometimes disconnect between Enterprise Architects and Business Architects, risk analysis in relation to BPM, and the right ways to begin a dialog between BPM and SOA. – 27 Feb 2009
Podcast: Enterprise Mashups with John Crupi
The mashup so closely associated with the Ajax movement is getting a new look in, what is for some, a new role. John Crupi is the CTO of JackBe Corp., and he has seen the evolution of the mashup pattern over several years. In this podcast, he discusses security and other traits that make a mashup an enterprise mashup. – 26 Feb 2009
Podcast: No longer a toy - Dr. Harding on SOA
Where is SOA at today? The Open Group's Dr. Chris Harding says we have moved past the stage where SOA is a toy. This podcast illuminates key trends that include SOA governance and vertical SOAs. – 08 Jan 2009
Dig Deeper on Service-oriented architecture (SOA)
PRO+
Content
Find more PRO+ content and other member only offers, here.