News
Stay informed about the latest enterprise technology news and product updates.
Podcast special
Find the latest service-oriented architecture performance news and application development updates with the podcast special page. Listen to recent podcasts covering tips on software architect skills and SOA performance optimization.
Podcast: Hurwitz on cloud computing and the enterprise architect
At the end of 2008, SearchSOA.com's Jack Vaughan sat down with Judith Hurwitz for a podcast to discuss what exactly cloud computing is, and how it relates to the enterprise architect.

Download this free guide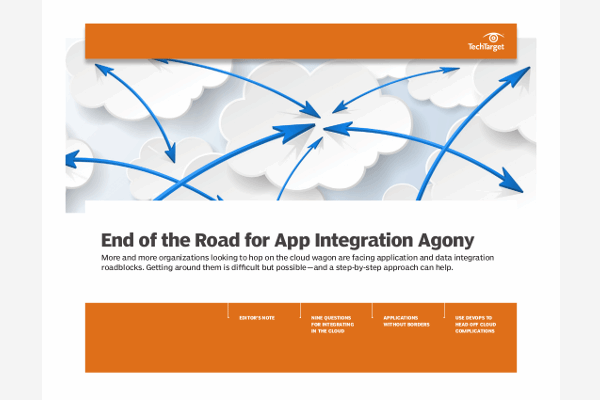 Download Our Guide: Application Integration for SaaS Adoption
More and more organizations looking to hop on the cloud wagon are facing application and data integration roadblocks. Getting around them is difficult but possible—and a step-by-step approach can help.
By submitting your personal information, you agree that TechTarget and its partners may contact you regarding relevant content, products and special offers.
You also agree that your personal information may be transferred and processed in the United States, and that you have read and agree to the Terms of Use and the Privacy Policy.
Podcast: No longer a toy - Dr. Harding on SOA
Where is SOA at today? The Open Group's Dr. Chris Harding says we have moved past the stage where SOA is a toy. This podcast illuminates key trends that include SOA governance and vertical SOAs.
Podcast: SOA Performance Optimization and Management with Thomas Fredell
SearchSOA.com editor Jack Vaughan recently discussed the SOA Test conundrum with Thomas Fredell, CTO, IntraLinks. Says Fredell, changes in Web services' uses or behaviors can often have unexpected influence on 'back end' components.
Podcast: SearchSOA tips on software architect skills
In a brief podcast, SearchSOA.com Editor Jack Vaughan discusses some lessons learned in the area of software skills.
SOA Performance Management: Improving Visibility into the User Experience - Vendor Podcast
In this Podcast, you will gain insight into how to manage performance in complex SOA environments. Discover the unique benefits associated with this loosely-coupled infrastructure. Explore the significant differences between performance testing that is completed during development and ongoing performance management that occurs in the day-to-day production environment. Learn how to monitor and manage the entire infrastructure and gain visibility into all transactions in real-time.
Technologies Influencing the APM Landscape: Web Services, SOA and Virtualization
Your success depends on the optimal availability and performance of your Web applications. Gaining intelligence about the performance of your Web applications and the quality of your end user's experience can be critical to success.
Dig Deeper on Application integration architecture
PRO+
Content
Find more PRO+ content and other member only offers, here.