Halfpoint - Fotolia
News
Stay informed about the latest enterprise technology news and product updates.
O'Reilly Software Architecture Conference seeks to cure architect pain
The O'Reilly Software Architecture Conference kicks off in New York City on Sunday, and organizers are looking to help both career architects and 'accidental' architects.
Looking for something else?
TECHNOLOGIES
Next week, casual street-side conversations in New York's midtown may switch from usual topics like the Yankees and rental rates to talk about microservices and multitier software architecture.

Download this free guide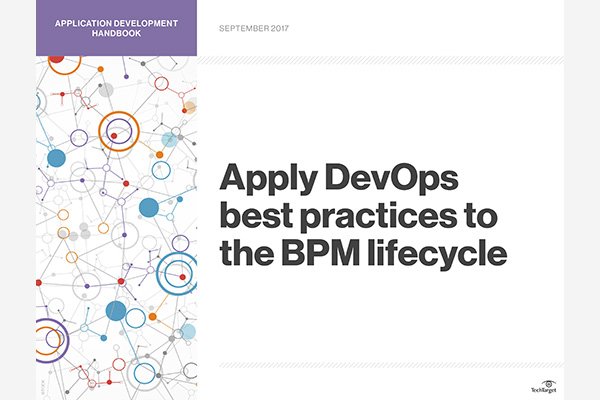 Instant download: Applying DevOps to the BPM lifecycle
Modern BPM systems must be compatible with the DevOps approach and employ DevOps best practices to aid application development.
By submitting your personal information, you agree that TechTarget and its partners may contact you regarding relevant content, products and special offers.
You also agree that your personal information may be transferred and processed in the United States, and that you have read and agree to the Terms of Use and the Privacy Policy.
That's because Sunday marks the start of the third annual O'Reilly Software Architecture Conference in New York City, a conference aimed at helping software architects across various industries learn more about their craft through training sessions, networking events and speaker presentations.
A conference for architects -- even accidental ones
Unsurprisingly, given the title, the O'Reilly Software Architecture Conference is aimed at software architects, particularly those in enterprise settings. However, Brian Foster, content lead at O'Reilly Media and co-chair of the conference, noted that this event caters not only to career architects but also to aspiring architects and what he calls "accidental" architects -- developers who may have "accidentally" found themselves taking on architectural responsibilities.
"There is this whole wave of developers that have been instrumental in building a system or making a move to a newer system within their company," Foster said. "And I think they've almost taken on the title of 'being an architect' without that actually being their title."
Foster said that a conference like this is unique in the way that it brings together both these enterprise-level career architects and accidental architects -- both of which, he said, often face the same kinds of challenges despite the differences between their respective organizations. Foster also said they recognize that people in these architectural roles are often tasked with making difficult business decisions that affect both the C-level executives they are answerable to and the development teams they are responsible for managing, a fact that heavily influences the type of content they choose to highlight for the conference.
"A lot of people in this audience are key influencers within their organization, so they have a big role and a big say in what their companies will adopt -- a new technology, a new business process, a new way of looking at their technology," Foster said. "So it's a really unique role that I think we're only seeing continue to develop and take shape."
'Engineering the future of software'
According to Foster, the tagline for the O'Reilly Software Architecture Conference event is "engineering the future of software," an idea he feels attendees have truly rallied around, especially as they try to navigate new development trends like moving to the cloud and working with microservices.
I hope attendees come away with a lot of knowledge and help their organizations move into this new way of working with software.

Brian Fostercontent lead, O'Reilly Media
"This audience is really positioned to lay the foundation for a lot of these newer developments to take place," Foster said. "That's been our mantra for the event, and those are a lot of the people that we do draw to the event."
To this end, the O'Reilly Software Architecture Conference consists of two days of training sessions focused on various aspects of dealing with modern software architecture in a practical manner, followed by two days of speaker presentations and architect-focused networking events. According to Foster, these sessions go beyond simple introductions to things like microservices, and go heavily in-depth into practical considerations that surround the technology, such as monitoring and data management.
One of these events includes something called "speed networking," an early morning event that will occur on both Tuesday and Wednesday, where attendees have rapid-fire meetings with peers. This event resonated with attendees in conferences past, Foster said, and offers a unique way for architects to talk about their shared pain points and strategies, as well as exchange business cards.
"It's really almost a form of speed dating," Foster said. "You get to meet a lot of different people, get to see where people are working from. It moves very quickly, but it's a great way to get the morning started."
Architects feel the burn of rapidly evolving tech
While new technologies like microservices may be an exciting prospect for those strictly working at the development and programming level, these trends may weigh a little more heavily on the minds of enterprise architects.
Brian Foster, content lead at O'Reilly Media and co-chair of the O'Reilly Software Architecture Conference, said he recognizes the struggle today's architects face as businesses hustle to adopt the latest and greatest development technologies and methods.
"A lot of our core audience are people that have made the move to things like microservices, and are happy that they have, but they're seeing the next wave of what they have to do," he explained. "Now that they've spun up a few hundred services ... what does it take to keep that running?"
Foster said that these architects also face a unique challenge in that they are often a bridge between C-level executives focused on business needs and development teams that want to change the way they work with software. Because of this, he said, these architects are often the ones tasked with deciding if the adoption of a certain technology or method truly is the answer to a particular business need.
"I think that's the unique challenge of being an architect," Foster said. "They have these great technology choices, and for some organizations it might be the right move to jump in. But for others, caution is necessary. They want to understand the impacts not just from a technology perspective but also from a business perspective."
Foster also highlighted an event called "architectural katas." This is a two-hour event where attendees will be split into teams and tasked with finding the best architectural solution to a randomly assigned real-world business scenario. Prizes will be awarded to the architectural strategy that makes the most sense, and will also feature food and drinks to keep people energized.
In the end, Foster said he hopes that conference attendees can address their most pressing pain points and walk away with practical knowledge that can help them solve those challenges.
"We really tried to do the best we could with the content in terms of finding the pain points that attendees have been seeing," Foster said. "I hope attendees come away with a lot of knowledge and help their organizations move into this new way of working with software."
The O'Reilly Software Architecture Conference will be held at the New York Hilton Midtown from April 2 to April 5. There will also be a London event, occurring in October 2017.
Dig Deeper on Holistic governance, risk and compliance (GRC)
PRO+
Content
Find more PRO+ content and other member only offers, here.