buchachon - Fotolia
News
Stay informed about the latest enterprise technology news and product updates.
Digital business strategy requires total IT visibility
Becoming a digital business is a worthy goal, but organizations need to understand how this will affect their IT operations. Chris Riley shares what IT departments need to know.
This Article Covers
RELATED TOPICS
Looking for something else?
While there's a lot of positive hype these days around creating a digital business strategy, the effect this trend will have on how IT organizations are structured and operate on a daily basis is likely to be profound.

Download this free guide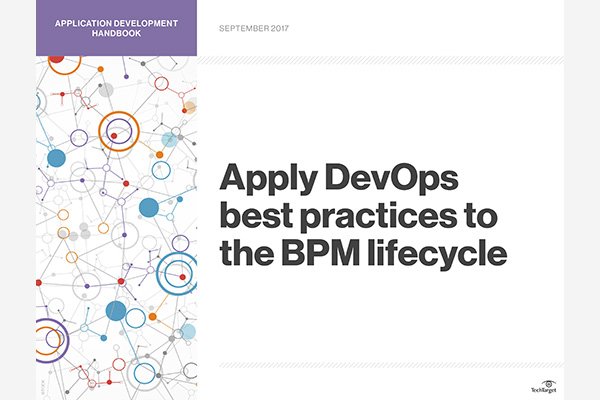 Instant download: Applying DevOps to the BPM lifecycle
Modern BPM systems must be compatible with the DevOps approach and employ DevOps best practices to aid application development.
By submitting your personal information, you agree that TechTarget and its partners may contact you regarding relevant content, products and special offers.
You also agree that your personal information may be transferred and processed in the United States, and that you have read and agree to the Terms of Use and the Privacy Policy.
Most enterprise IT organizations today are structured around various silos. Developers usually have different levels of proficiency with various programming languages, while IT infrastructure teams tasked with support -- both custom and packaged applications -- are split across isolated silos of compute, storage and networking resources. The end result is that while it may only take a couple minutes to provision a virtual machine, it still takes days and weeks to provision all the associated storage and networking resources.
Awareness of what it means to create a true digital business strategy is forcing many IT organizations to confront the fact that they are not particularly Agile. In fact, it's arguably this lack of agility that has spurred many developers to lead the end-run charge around the internal IT organization. Convinced that cloud service providers are more responsive to their needs, many developers strongly advocate a cloud-first model of computing that aims to disenfranchise the internal IT organization.
But employment of public cloud services often only serves to exacerbate a whole range of compliance, security and application performance issues. In essence, as application workloads become more distributed across hybrid cloud computing environments, the total cost of managing those workloads over time only winds up becoming more expensive.
To rise to the agility challenge inherent in creating a digital business strategy, savvy IT organizations are embracing a variety of forms of software-defined infrastructure. Regardless of how these SDI platforms manifest themselves, the goal is to manage IT at a higher level of abstraction that makes it simpler to cohesively manage all the compute, storage and networking resources attached to a specific application workload. Once that's accomplished, it then becomes a lot easier to employ an integrated DevOps approach to managing IT.
Becoming a digital business is a journey -- a journey that spans everything from the way applications are constructed to how an IT organization responds to the inevitable incident.
Of course, that means the IT organization itself will have to change the way it's organized. Instead of competing fiefdoms operating in isolation, IT teams will increasingly be organized around the classes of application workloads that need to be developed, deployed and maintained. Changes to the IT environment that are being made faster and more furiously than ever, thanks to the rise of Agile development methodologies, will be much easier to absorb if the IT organization as a whole is working off a common pool of information. This means instead of having isolated application performance monitoring tools that provide no visibility into the underlying IT infrastructure, IT organizations will need to finally migrate toward what some industry analysts are now starting to refer to as data center service optimization frameworks.
None of this is going to happen overnight. Becoming a digital business is a journey -- a journey that spans everything from the way applications are constructed to how an IT organization responds to the inevitable incident. But before an IT organization starts down that path, it would be well-advised to gain a solid understanding of all the new tools and process adjustments that are going to be required to turn a digital business slogan into an everyday reality.
Dig Deeper on Service-oriented architecture (SOA)
PRO+
Content
Find more PRO+ content and other member only offers, here.