Examine API integration trends in the enterprise
In this Q&A, Mala Ramakrishnan, director of product marketing at Oracle, answers questions about trends in API integration and management tools.
API integration is attracting considerable interest from enterprise architects and is a hot topic at the Oracle OpenWorld Conference in San Francisco this week. We caught up with Mala Ramakrishnan, director of product marketing at Oracle, who provided her view on how API integration trends are affecting the enterprise.

Download this free guide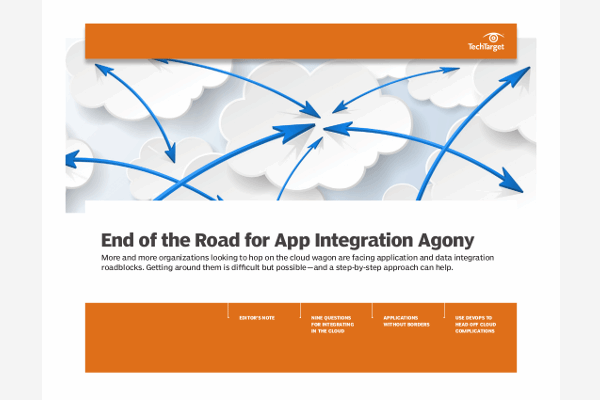 Download Our Guide: Application Integration for SaaS Adoption
More and more organizations looking to hop on the cloud wagon are facing application and data integration roadblocks. Getting around them is difficult but possible—and a step-by-step approach can help.
By submitting your personal information, you agree that TechTarget and its partners may contact you regarding relevant content, products and special offers.
You also agree that your personal information may be transferred and processed in the United States, and that you have read and agree to the Terms of Use and the Privacy Policy.
What are some of the important trends in API integration tools that you see?
Mala Ramakrishnan: There is a move to broaden the development community beyond IT to include mobile application developers, non-IT line-of-business application developers and third-party application developers -- mobile and on-premise[s]. Customers are expecting API management tools to offer community building so developers can collaborate on design and usability of APIs and improve the developer experience to discover, test and track their use of APIs.
The best API management solutions cover a range of functionality across mobile, cloud and on-premise[s] situations and handle a variety of integration needs including SOAP, REST, B2B and managed file transfer.

Mala Ramakrishnandirector of product marketing at Oracle
As customers are looking to API integration tools more and more for mobile enablement, [representational state transfer (REST)/Javascript Object Notation] has become an accepted standard for exposing enterprise applications as APIs. Tools should facilitate the creation of these REST APIs, and on the back end [they should] support service discovery, shaping, cataloging and publishing APIs, and [monitor] the health and performance of these APIs at runtime.
What do you see as the competitive differentiators for API management tools and why?
Ramakrishnan: The best API management solutions cover a range of functionality across mobile, cloud and on-premise[s] situations and handle a variety of integration needs including SOAP, REST, B2B and managed file transfer.
[Other differentiators are:]
An integrated solution which can be deployed on-premise[s] or in the cloud.
A mobile-first mindset when it comes to designing APIs for mobile developers, including mobile application-specific infrastructure to speed time to market for new apps.
Enterprise-grade tools for building secure APIs for critical back-end services.
Comprehensive tools for collecting the APIs which should be exposed to developers. These tools should support a range of governance processes, ideally customizable, but should not introduce heavy process overload that can reduce time to market.
Effective tools for developers to find, test and track their own use of these APIs.
Ways for developers to participate in a community -- to rate and see other people's ratings of APIs they are using or considering using.
Tools for auditing, instrumenting and analyzing API usage to determine technical and operational usage and performance in addition to business impact.
API lifecycle management, version control and processes to ensure backward compatibility without impacting the consumer of the APIs.
Runtime service monitoring and management, or governance, to ensure that API implementations meet anticipated technical and business goals.
How do you see the balance of interest moving from internal enterprise-centric SOA platforms to cloud-centric needs?
Ramakrishnan: Every customer has a different set of needs and a different dynamic for the balance between cloud and internal enterprise-centric solutions. API management vendors should allow customers to make the cloud vs. on-premise[s] decisions on their own schedule. The best API management solutions will offer a solution that can be leveraged across on-premise[s], hosted cloud as well as cater to a mobile focused development environment. It should be possible to deploy and leverage API management tools in public, private and hybrid cloud environments. Back-end services in any of these environments should be easily accessed while offering a continuous, integrated experience to API providers and consumers.
What are some of the best practices for incorporating API management tools into an organization's software development lifecycle?
Ramakrishnan: Ensure that you build a center of excellence. Connect stakeholders across IT and business teams which can help API design the needs of its consumers and matches the business model. This model should include a monetization model, a publish methodology, [a] plan for measuring success and a plan for managing the lifecycle.
Develop a robust and elastic enterprise architecture that includes best-practice API management methodologies. This may include supporting horizontal and vertical scalability and availability, decoupling business logic from the mobile presentation, deployment options -- on-premise[s], cloud, hybrid -- [and] incorporating unified security policies and business rules.
Make iterative advancements that deliver measurable benefits. Enrich current IT systems without requiring a complete overhaul and risking the long project's negative results. APIs need to coexist with a range of heterogeneous environments [and] legacy systems and should be seen as delivering incremental value over the long term to the business.
PRO+
Content
Find more PRO+ content and other member only offers, here.