News
Stay informed about the latest enterprise technology news and product updates.
David Linthicum on SOA and cloud
The SOA-cloud relationship is well documented in the work of David Linthicum. Taken together, these pieces outline the dual and interrelated paths of cloud and SOA.
Looking for something else?
TECHNOLOGIES
The swift currents of software technology are easier to navigate when you find familiar guide points. It is possible to view service-oriented architecture as an update to object-oriented computing – but one that is based on Web services. In the same way, cloud computing architecture can be seen as an update to grid computing architecture – but one that builds on expanded use of virtualization technology. For that matter, early cloud computing built decisively on the very services architecture that SOA brought to the world. The services aspect of cloud computing again is gaining attention.

Download this free guide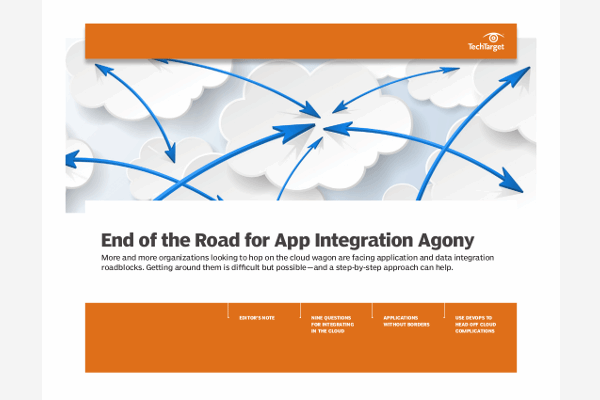 Download Our Guide: Application Integration for SaaS Adoption
More and more organizations looking to hop on the cloud wagon are facing application and data integration roadblocks. Getting around them is difficult but possible—and a step-by-step approach can help.
By submitting your personal information, you agree that TechTarget and its partners may contact you regarding relevant content, products and special offers.
You also agree that your personal information may be transferred and processed in the United States, and that you have read and agree to the Terms of Use and the Privacy Policy.
The SOA-cloud continuum is well documented in the work of David Linthicum, whose expert cloud commentary has graced SearchSOA.com's pages in recent years in the form of QAs, columns and podcasts. Taken together, these pieces outline the dual and interrelated paths of cloud and SOA.
Back in a 2009 podcast, Linthicum discussed cloud computing as a way to do SOA. SOA is in essence an architectural pattern, he said. It is a way of looking at systems so they are more flexible and easier to redeploy - important aspects of cloud architecture. Certainly the SOA notion that services could reside off-site and be called as needed was a precursor to cloud.
Last year, in a Q&A interview, Linthicum discussed the then just-burgeoning online data services market and how different types of services and feeds can be used as part of cloud integrations. He noted that these days these are typically RESTful services.
In his most recent column on this site, Linthicum points to the difficulty cloud providers have in either ''talking the talk'' or ''walking the walk'' when it comes to SOA on the cloud computing architecture. ''The reality is that most cloud providers out there have no clue as to the value of SOA to their core business,'' he laments. Check out more from the SearchSOA Linthicum collection below.
Dig Deeper on Cloud integration and iPaaS
PRO+
Content
Find more PRO+ content and other member only offers, here.