News
Stay informed about the latest enterprise technology news and product updates.
jQuery finds important role in Ajax-style open source framework development
The jQuery open source library and framework has gained greater attention among a slate of frameworks that includes Dojo, Prototype, GWT and others. Designers – and some developers too – may employ jQuery to ease JavaSript-based development tasks.
In recent years, the jQuery open source library and framework has gained greater attention among a slate of frameworks that includes Dojo, Prototype, GWT and others. While viewers say it has advantages in some parts of development, it remains one among many other important frameworks, although an important one. It provides, they assert, an easier way to work with Ajax for people who may not have that much experience – or interest – in JavaScript.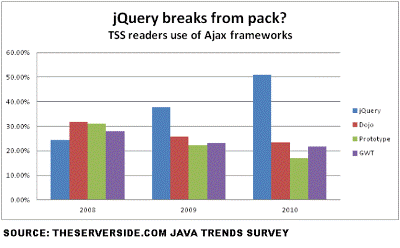 A look at TheServerSide.com's 2010 Java survey results might suggest that jQuery is gaining in the Ajax market. Over 50 percent of readers have used jQuery as of 2010, versus about 25 percent in 2008. This gives the impression that users are beginning to abandon other frameworks in favor of jQuery. But it's important to keep in mind that many developers use more than one framework and that Ajax frameworks aren't really competing with each other.

"I don't really think jQuery is pulling a lot of people away from other frameworks, but rather growing the market," said Aaron Newton, an Ajax developer and major proponent of MooTools.


For larger enterprises, there's no single framework. Each team uses what's best for them. The applications might be built with Closure or Dojo, and the homepage might be built with jQuery.

Continue Reading This Article

Enjoy this article as well as all of our content, including E-Guides, news, tips and more.

Dylan Schiemann, CEO, SitePen,

Other participants in the Ajax framework world agree.

jQuery proponent Ralph Whitbeck said, "There is plenty of room [in the Ajax market] for multiple libraries."

Meanwhile Dojo proponent Dylan Schiemann explained that, "For larger enterprises, there's no single framework. Each team uses what's best for them. The applications might be built with Closure or Dojo, and the homepage might be built with jQuery."

jQuery's advanced standing appears to result from a certain ease of use compared to other frameworks. It is, for example, a simpler way to work with the Document Object Model (DOM). This ease has drawbacks. jQuery provides set ways of doing things, but these may be limiting in some settings where other frameworks may allow JavaScript savvy developers to do more. It's a simpler way to work with the DOM.


Whatcha know, Dojo?

Dylan Schiemann is one of the founders of Dojo and the CEO of SitePen, Inc., a consulting company with a focus on helping enterprises with support for Dojo. He is in no way displeased by jQuery's success. Dojo's success is exceeding Schiemann's expectations. "That jQuery can exceed even that is amazing," he said.

The idea of any one framework 'winning the race' is a moot point. According to Schiemann, "If one open source platform were to win, it would defeat the whole point of open source – which is freedom of choice and information." He said different frameworks are targeting different niches within the broader Ajax developer niche.

According to Newton, jQuery's growing popularity "doesn't mean that other frameworks aren't growing, it just means that jQuery is attracting a segment of the market that didn't exist before. jQuery is a fine language abstraction for the DOM, but that's about where it stops; it's not a programming framework and if you wanted to build something beyond its scope it's not going to help you. This isn't a deficiency of jQuery; it's just outside the scope of their mission."

The programming frameworks like Dojo and Prototype may tend more toward application developers – many of them Java developers – who want a broad toolset that provides functionality for complex programming, while jQuery leans toward use among Web page builders.

According to Ralph Whitbeck, a central figure on the jQuery developer relations team, jQuery's popularity can be attributed mostly to the jQuery community, but also to the jQuery team's successful marketing efforts. Whitbeck is a co-author of the jQuery Cookbook and co-host of the official jQuery podcast. Whitbeck said that he feels jQuery has the most active and passionate user-base out of any he's seen. In addition, the jQuery team has been "very good at getting the product in front of people – making it really easy for users to pick it up and run with it."

Making the DOM easier

Whitbeck explained that jQuery makes working with the DOM easier; it's easy to learn and highly available; and there is a lot of community and forum support available. According to Whitbeck, jQuery isn't going anywhere and it's making Ajax and JavaScript development more visible and more available. Which Schiemann agrees is a good thing.

He said that however it happens, "More people working with JavaScript and Ajax is always good." Although he did express some concern that people might choose "the popular product rather than the one that works best for them," he maintained the statement that jQuery is not stealing Dojo users, even if Dojo users are incorporating jQuery elements when it makes sense to do so.

Newton called jQuery "a declarative, almost colloquial API for DOM," and said that it allows "a lot of people who would never write JavaScript [to] get some basic functionality to work." He explained that jQuery is simple enough for developers without knowledge of JavaScript to work with it, which is drawing in a relatively new audience of designers, server-side programmers and tinkerers. These developers may have no experience with JavaScript, but with jQuery they can still add a limited amount of client-side functionality to otherwise server-based applications.

Clearly, however, jQuery is experiencing significant momentum.

"I definitely feel like jQuery is the leading framework these days," said Matt Raible, Web architect. "On my last three projects I've used GWT and jQuery. While GWT is a lot easier for Java developers, jQuery is loved by Web Developers."
Dig Deeper on Microservices pattern, platforms and frameworks
PRO+
Content
Find more PRO+ content and other member only offers, here.