Manage
Learn to apply best practices and optimize your operations.
SOA Books Library
In the SOA Books Library, discover books to better understand and implement open source SOA, enterprise mashups, cloud-based applications, and more. Free excerpts are provided.
This Article Covers
RELATED TOPICS
Looking for something else?
In the SOA Books Library, discover titles to help you better understand and implement open source SOA, cloud-based applications, event driven architecture, and more. Free excerpts are provided, and you can click each heading for a detailed review. Check back often for new additions.

Download this free guide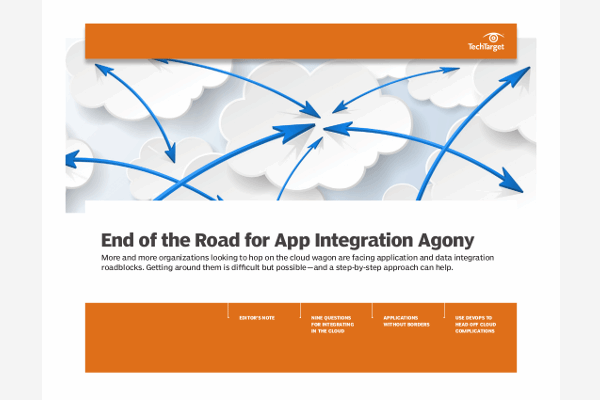 Download Our Guide: Application Integration for SaaS Adoption
More and more organizations looking to hop on the cloud wagon are facing application and data integration roadblocks. Getting around them is difficult but possible—and a step-by-step approach can help.
By submitting your personal information, you agree that TechTarget and its partners may contact you regarding relevant content, products and special offers.
You also agree that your personal information may be transferred and processed in the United States, and that you have read and agree to the Terms of Use and the Privacy Policy.
Demystifying Embedded Systems Middleware
The book Demystifying Embedded Systems Middleware, by Tammy Noergaard is a technical guide to embedded middleware implementation written for embedded engineers, designers, and programmers. The book includes theoretical discussions, practical advice, and real-world examples and covers core middleware, more complex middleware uses, and integrated middleware.

ActiveMQ in Action
Take a look at ActiveMQ in Action scheduled for publication in December of 2010 from Manning Books, for a comprehensive text that will help application developers interested in implementing message-oriented middleware (MOM) using the JMS specification with ActiveMQ. Check out a free excerpt from the book or read this discussion of middleware with co-author Rob Davies.

Event Processing: Designing IT Systems for Agile Companies
Get a high-level overview of events processing in Event Processing: Designing IT Systems for Agile Companies by Mani Chandy and Roy Schulte. The book starts off with the basics and moves quickly through other important terminology and key concepts, laying the groundwork. The book moves on to real-world applications that event processing is well suited for and then explains in an in-depth, yet not overly technical, manner how event processing handles those problems.

Re-make or Re-model?
As developers consider moving applications to the cloud, to what extent will they have to re-think familiar go-to languages to make apps work there? Re-make or Re-model?, Chapter Two of the SearchCloudComputing.com e-book, helps answer this question by discussing languages for cloud computing, distributed caching, scaling horizontally, and more.

Launching and Sustaining Modernization Initiatives
In this excerpt from Chapter 15 of Information Systems Transformation: Architecture-Driven Modernization Case Studies, authors William M. Ulrich and Philip H. Newcomb discuss various aspects of launching and sustaining modernization initiatives. Topics include a discussion of pitfalls to avoid, modernization principles, tool and service strategies, where to start, and what to expect from modernization in the future. Check out a free excerpt from the book.
Cloud Computing and SOA Convergence in Your Enterprise
In his book, Cloud Computing and SOA Convergence in Your Enterprise, author David Linthicum provides a step-by-step guide to how cloud computing and SOA can be leveraged together. The pairing may reduce some of SOA's complexity. "What I see is a lot of people that are building service-oriented architectures in the cloud and not even knowing they're doing it," said Linthicum during a recent interview. We've provided a free excerpt from Linthicum's new book for your perusal.
Development with the Force.com Platform
In Development with the Force.com Platform, author Joe Oulette describes how to use the Force.com platform to create business applications in the cloud. Oulette begins his book with an overview of the current Platform as a Service (PaaS) environment and an introduction to the Force.com platform. The bulk of the book, though, covers in detail how to create programs with Force.com. Read a free excerpt from Development with the Force.com Platform.
Enterprise Web 2.0 with EGL
EGL (Enterprise Generation Language) is a high level programming language designed to simplify the creation of business software by shielding a developer from the complexity of middleware. In Enterprise Web 2.0 with EGL author Ben Margolis provides instructions on how to use the language. Read this excerpt from Enterprise Web 2.0 with EGL to understand the scope of EGL, including its uses, supported technologies, and functional capabilities.
Event-Driven Architecture: How SOA Enables the Real-Time Enterprise
"We all use a close cousin of EDA on a daily basis, one whose simplicity can help us gain a better understanding of EDA, perhaps without even realizing it," write the authors of Event Driven Architecture. It's called event-driven programming (EDP) and it's common in most runtime platforms. In this excerpt, learn about the relationship between EDA and EDP.
Mashup Patterns
Mashups are an empowering technology. They let users easily create programs from existing data sets and applications by mashing them together to create new functionality. Not only does this promote reuse within the enterprise, it also allows for fast and cheap application building. In Mashup Patterns, author Michael Ogrinz describes proven methods for creating mashups. Read this free excerpt from Mashup Patterns.
Open Source SOA
Because open source products are often of relatively narrow scope, several products would be needed to create a complete technology stack. That presents an integration challenge not found with more comprehensive commercial offerings. In Open Source SOA, author Jeff Davis describes a complete SOA technology stack built entirely with open source products. Read a free chapter from the book.
Oracle SOA Suite Developer's Guide
Author Matt Wright believes BPEL may help shape the future of SOA. "Software applications as we know them are becoming a thing of the past" said Wright by e-mail. "In the future we will only think of services and how those services are assembled (for example, using BPEL) to build complete 'composite' applications." Wright recently wrote Oracle SOA Suite Developer's Guide. Chapter five, excerpted here, describes how to make a BPEL service.
SOA for Dummies, 2nd Edition
With so many best practices, component technologies, and implementation strategies, finding a place to begin with service-oriented architecture can be a challenge. SOA for Dummies, 2nd Edition, by Judith Hurwitz, is an excellent place to start. Unique to the second edition of the book is a compendium of SOA case studies. Read a free excerpt from SOA for Dummies to see how to begin.
Sun Certified Enterprise Architect for Java EE Study Guide
Becoming a Sun Certified Enterprise Architect for Java EE requires an advanced understanding of all aspects of the Java EE platform, from JSF and JSP to EJBs and POJOs. Passing the certification exam—which includes 64 multiple choice questions, a systems design challenge and a written assessment of that system, can be difficult even for experienced architects. Sun Certified Enterprise Architect for Java EE Study Guide by Mark Cade and Humphrey Sheil is intended to help examinees prepare for the exam.
Tuscany in Action
Service Component Architecture (SCA) is a standardized assembly model for describing composite applications made from services. SCA is technology neutral and managed by OASIS. Apache Tuscany is an open source software tool that allows a user to implement SCA. In Tuscany in Action, author Simon Laws and others describe how to use Tuscany to develop and manage composite applications. Tuscany includes pluggable protocols and various component types so that services written in different languages can be more easily integrated.
Dig Deeper on Service-oriented architecture (SOA)
PRO+
Content
Find more PRO+ content and other member only offers, here.