Evaluate
Weigh the pros and cons of technologies, products and projects you are considering.
HTML5 browsers gain influence as application integration pendulum swings
HTML5 browser front ends on new Mobile Web apps give added importance to the 'client' in the client server equation. But SOA has a back-end role too. Scalability is an issue for heavily used applications.
This Article Covers
RELATED TOPICS
Looking for something else?
TECHNOLOGIES
Technology often seems to be a series of pendulum swings, and it can be hard to know where in transit you are at any one time. Sometimes, the trends are more vivid than at others. A present case in point is the HTML5 browser running JavaScript.

Download this free guide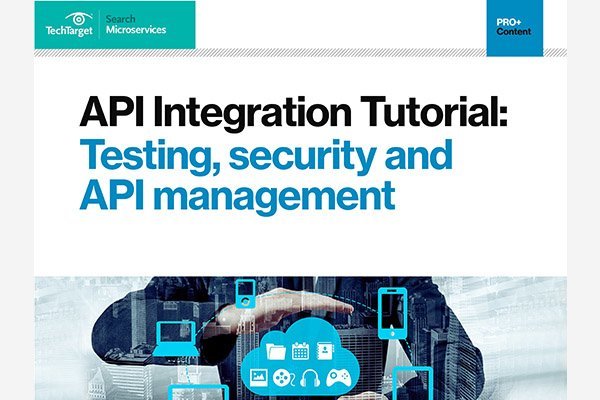 API Integration Tutorial: Claim your free copy
This tutorial compares leading API management tools on today's market as well as strategies for RESTful API testing.
By submitting your personal information, you agree that TechTarget and its partners may contact you regarding relevant content, products and special offers.
You also agree that your personal information may be transferred and processed in the United States, and that you have read and agree to the Terms of Use and the Privacy Policy.
We saw, for example, the move from heavy weight mainframes to lighter application integration servers. As the application servers themselves bulked up, we saw a move to lightweight application frameworks.
Web services arose as a lighter weight alternative to CORBA integration, but, as they added useful CORBA style enterprise traits, the Web services themselves got bloated. These were countered with JSON and REST style services.[JSON's inventor was proud to say that, unlike a typical XML SOAP schema, the entire JSON API could be described on a small business card.]
The important differences between the client and server today have less to do with size and more to do with style. What we see is different from the usual "feature footprint" tradeoffs between fat (full featured) clients and thin (sparsely featured) clients. Through all the upheaval, SOA still seems to maintain a role as backend mediator. But JavaScript, the engine of newly minted HTML5 browser, has a ways to go in terms of overall scalability.
What is apparent is that the front end is beginning to set rules of the game, and the back end is sometimes just along for the ride. Much reviled, JavaScript has been continually revived over the years, updating the "ubiquitous client" known as the Web browser in order to meet new needs. Now, JavaScript rock stars are finding their way into dyed-in-the-wool enterprise IT shops.
The HTML5 browser is moving JavaScript to the top of technologies developers need to know. We saw this late last year at Gartner's AADI Summit 2011, where panelists discussed "the future of Web applications" and the growing significance of HTML5 and JavaScript APIs. But the tremendous pace of Web app innovation is causing integration specialists to be more careful than ever about isolating the backend from the front end.
The advice for people rebuilding applications is pretty familiar. "Decouple the front end from the backend," said panel moderator and Research Vice President Ray Valdes, Gartner, San Jose, Calif.
While the backend can be viewed as the system of record, he said, the front end will be constantly changing. No matter whether you picked Adobe Flash, Microsoft Silverlight or JavaScript, you are going to revisit the choice in the next couple of years, application development and integration expert Valdes suggested. That makes loosely coupled services more vital than ever.
"HTML5 skills are going to become super important," said panelist Michael Mullany, CEO with HTML5 consultancy and application framework maker Sencha, Redwood, Calif. But the HTML5, or JavaScript, developer may have to become more enterprise savvy.
"You have to think of your browser as your client and have clean SOAs on the backend," he said. It may prove challenging finding the JavaScript developers with the skills needed to do that. "People have done JavaScript, but finding people that have done highly scalable JavaScript is less common," he said.
"Thinking in a service-oriented way will make your life easier in the long term," said Tim O'Brien, general manager, Platform Strategy Group, Microsoft, Redmond, Wash. "The emergence of HTML5 is real," said O'Brien. "Java script as a general purpose programming language is on the rise."
It can be expected that, with experience, more JavaScript developers will be more versed in developing for scalability. But that slot may have to be filled gradually over time.
"We are in a renaissance of client-side developing again," said Greg DeMichelli, formerly an industry analyst with Directions on Microsoft , and now senior director of iterative development at Adobe, San Jose, Calif. He, too, said JavaScript scaling skills needed attention. "For us, somebody that can party on a JavaScript file is different that a team that can architect JavaScript that scales."
Dig Deeper on Microservices pattern, platforms and frameworks
PRO+
Content
Find more PRO+ content and other member only offers, here.