kitson - Fotolia
Manage
Learn to apply best practices and optimize your operations.
Cloud service brokers assist with SOA projects, integrations
As distinct scenarios help make the case for organizations to move SOA projects to the cloud, some enterprises are seeking the guidance of cloud service brokers to ensure they get maximum value.
This Article Covers
RELATED TOPICS
Looking for something else?
TECHNOLOGIES
The cloud has added another dimension to SOA projects. With more companies moving to Platform as a Service (PaaS) and other configurations, developers are moving their SOA projects into the cloud to meet business needs. As they choose providers to build out applications and platforms, developers are also turning to cloud service brokers, both outside the organization and within, to help find the right service for their needs.

Download this free guide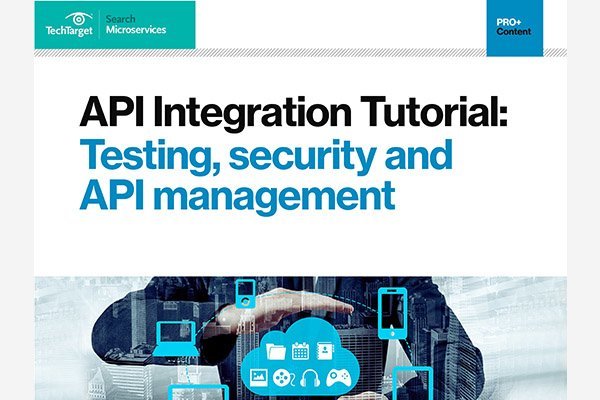 API Integration Tutorial: Claim your free copy
This tutorial compares leading API management tools on today's market as well as strategies for RESTful API testing.
By submitting your personal information, you agree that TechTarget and its partners may contact you regarding relevant content, products and special offers.
You also agree that your personal information may be transferred and processed in the United States, and that you have read and agree to the Terms of Use and the Privacy Policy.
Before the realization that the cloud could further SOA projects, a lot of chatter was devoted to how the cloud was SOA's successor, according to Austin Park, senior vice president and chief technology officer at Oconomowoc, Wisconsin-based technology firm Paragon Development Systems. "The fact that people even equate the two together is big change," he said.
The cloud is more than just resource pooling and rapid elasticity -- it provides measured service and can replace an SOA enterprise service bus (ESB) in some cases. Two distinct scenarios make the cloud an attractive option for developers, according to Paul Fremantle, chief technology officer and co-founder of Mountain View, Califorinia-based software company WSO2. The first scenario is if the developers are already integrating cloud-based applications, such as Salesforce.com, Google Apps and QuickBooks Online.
Start with the high value, which is always going to help sway management.

Paul FremantleWSO2
In the second scenario, the company is a small- to medium-size enterprise that doesn't have a data center. For them, the cloud is a good option, Fremantle said. While larger organizations can also take advantage of the cloud for integration projects, if they do not have data on the cloud already, they probably will avoid it for now, he added.
To kick off SOA development in the cloud, Fremantle advised starting with something that could prove the value of the model. A lot of times, developers will cautiously use the cloud to do something that's already been done. However, management often views this as a waste of resources since it has already been done in some form on-premise. "Start with the high value, which is always going to help sway management," he advised.
Cloud service brokers assist with API management
"There's definitely a move toward using integration to create APIs that you expose through API management," Fremantle said. The cloud has become a platform for companies to open up their APIs to partners and customers, as well as issue keys, track users, analyze usage and create portals so that developers can find and understand the company's APIs.
Additionally, companies are sharing their APIs in the cloud at hackathons, both externally and for internal hackathons. "We've seen people doing that inside organizations … bribing developers with prizes and stickers and the whole lot you'd do if you were running this externally," Fremantle said. This helps companies uncover ways to boost the bottom line, instead of forcing internal developers to do just what the management chain expects, he added.
Know how you'll use the broker
With the decision to move SOA projects into the cloud comes the need to go in with a clear understanding of how to use the cloud broker, according to Mike Constable, cloud management sales lead at global consultancy Capgemini. "I've seen the process stopped because [the developers] are asking how to make the best use of it," he said.
One of the things to consider is how much support and design the team will need in the cloud, as well as the portability of data. Cloud service brokers need to stay on top of the different offerings, and developers should know what features they'll need, what applications they'll be working on, and what options they would like to have in the future, according to Constable. For example, developers may be working with Open Stack or writing to Amazon's APIs, he said.
The other side of the coin is in understanding the existing applications portfolio, which is where a lot of organizations have implemented the cloud, as well as cloud control and visibility in order to know what's being provisioned. "Developers should be approaching a broker in a way that's going to help them bring control to what they're doing," Constable said. "It's really easy to get the credit card out and buy virtual machines, but it's not a good answer for the organization." He advocated a proper procurement process for obtaining cloud services, which allows the business as a whole to be confident in the choice to use the cloud for SOA projects.
Finally, an analytics strategy needs to be addressed, according to Fremantle. "Putting in really good analytics so you can get visibility about what's happening in the cloud is going to help a lot with management," he said. That helps those outside the development team understand how using the cloud is working and what the value is.
Christine Parizo is a freelance writer specializing in business and technology. She focuses on feature articles for a variety of technology and business-focused publications, as well as case studies and white papers for business-to-business technology companies.
Follow us on Twitter @SearchSOA and like us on Facebook.
Dig Deeper on Software containers
PRO+
Content
Find more PRO+ content and other member only offers, here.