Evaluate
Weigh the pros and cons of technologies, products and projects you are considering.
An essential guide to software container usability and management
Introduction
It seems that every day there are new changes taking place within the software technology world. 2016 proved to be the year of both containers and microservices. These trends have become less exclusive from one another. In 2017, the software container has learned to integrate with microservices and vice versa.
Organizations are increasingly becoming more acquainted with software container technology. This guide covers the latest container management trends and vendors to consider if your enterprise is ready to move forward. Learn how to make software containers part of your existing architecture, which integration tools have taken the spotlight and how SOA strategies can influence container modernizations. Finally, take a quiz to test what you've learned or take a gander at our list of common software container terms.
1

Software container news

-
The latest developments in application containers
In 2016, we learned that microservices and containers are leading the software technology trends. But, what does that mean for 2017 and the years to follow in terms of where these technologies lead? This section covers strategies for combining microservices and containers, security solutions and which vendors to consider.
Opinion
While 2016 proved that microservices are a great fit for cloud, the deployment part is tricky. Here's how combining microservices and containers will help DevOps teams in 2017. Continue Reading
News
The application container market is growing at an astounding pace, mimicking its rapidly rising popularity in the enterprise. What are the drivers and implications of that trend? Continue Reading
Tip
The container technologies ecosystem will see better security solutions, more competition between vendors and increased adoption of containers as a service in 2017. Continue Reading
2

Combining with containers

-
Making software containers part of your architecture
Now that your enterprise is ready to integrate software containers, how can you make this happen successfully? This section covers how to ensure successful software container integration with your architecture. Learn step-by-step practices and how to manage registries and satisfy business goals for container deployment.

Download this free guide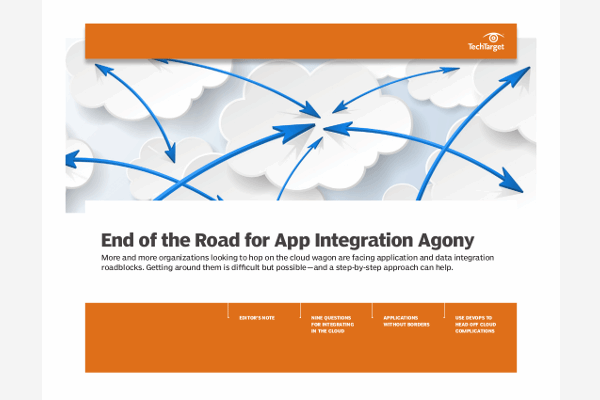 Download Our Guide: Application Integration for SaaS Adoption
More and more organizations looking to hop on the cloud wagon are facing application and data integration roadblocks. Getting around them is difficult but possible—and a step-by-step approach can help.
By submitting your personal information, you agree that TechTarget and its partners may contact you regarding relevant content, products and special offers.
You also agree that your personal information may be transferred and processed in the United States, and that you have read and agree to the Terms of Use and the Privacy Policy.
3

Go modern with containers

-
Improving software containers
As organizations move away from traditional SOA strategies toward containers, it is becoming clear that they share common goals. This guide section covers approaches to improve and modernize applications.
Feature
Hardcore advocates for application containers may trumpet the advantages of using containers over virtual machines. But more often than not, reality requires a combination of the two. Continue Reading
Tip
Traditional SOA and containerized infrastructure share many common goals, but containers offer better efficiency and manageability. How can enterprises bring the two together? Continue Reading
Tip
Container technologies have the ability to improve application modernization strategies. Learn how containers provide flexibility in app deployments. Continue Reading
4

Quiz yourself

-
What do you know about software containers?
Where does your organization align on the container spectrum? Take this quiz and figure out what you already know about software container management.
5

Terms to know

-
Software container: Up your knowledge
Review the latest software technology terms and learn how they relate to one another. This section offers a list of definitions for commonly used container jargon.