Definition
Podcast: What is SOA?
Listen to this 10 minute audiocast on your computer, your iPod or your favorite MP3 player.
As an end-user, you are probably very familiar with service-oriented architecture (SOA). If you've ever purchased something online and one computer program talked to another computer program to verify that the item you requested was in stock, you've entered the world of service-oriented architecture. Quite simply, SOA specifies how two computing entities will interact when working together. According to the Gartner Group, by 2008, more than 60 percent of companies will use service-oriented architecture as "the guiding principle" when creating important or mission-critical applications.

Download this free guide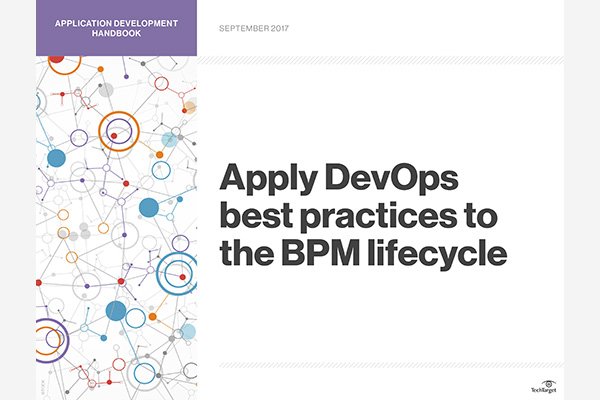 Instant download: Applying DevOps to the BPM lifecycle
Modern BPM systems must be compatible with the DevOps approach and employ DevOps best practices to aid application development.
By submitting your personal information, you agree that TechTarget and its partners may contact you regarding relevant content, products and special offers.
You also agree that your personal information may be transferred and processed in the United States, and that you have read and agree to the Terms of Use and the Privacy Policy.
In this segment, you will learn :
What SOA is

How SOA relates to other popular programming concepts
What programming standards and tools are commonly used to implement an SOA strategy

Download the audiocast here.
---
This podcast is sponsored by IBM
A solid foundation for flexible SOA
Implement SOA flexibly and incrementally with IBM WebSphere. At the pace you choose. Re-use and leverage your existing assets as you go, so you can complete projects faster and better. And you can do all that without overhauling your entire IT operation. Over 100,000 customers are using WebSphere today. Find out why.


What is podcasting? Read our definition.


Subscribe to the feed for WhatIs.com's Tech Buzzword of the Week.

To manually add the XML feed (RSS) for the podcast series, copy and paste the following link into your Web browser or iTunes or whatever podcast subscription tool you use:
http://feeds.feedburner.com/WhatiscomItBuzzword-of-the-week.://feeds.feedburner.com/WhatiscomItBuzzword-of-the-week">http://feeds.feedburner.com/WhatiscomItBuzzword-of-the-week.
Dig Deeper on Service-oriented architecture (SOA)
PRO+
Content
Find more PRO+ content and other member only offers, here.