News
Stay informed about the latest enterprise technology news and product updates.
When fables come true: Data services keep on keeping on
By Jack Vaughan
A long time ago, integration of various applications, application elements and databases became the main work of application development. Web services and SOA were first discussed in this context: Application architects and developers did not have to write every element from scratch.

Download this free guide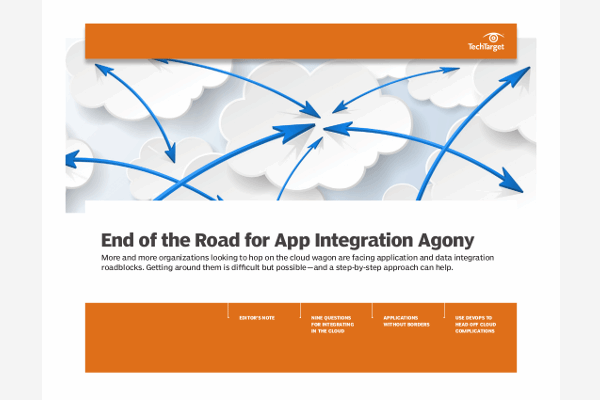 Download Our Guide: Application Integration for SaaS Adoption
More and more organizations looking to hop on the cloud wagon are facing application and data integration roadblocks. Getting around them is difficult but possible—and a step-by-step approach can help.
By submitting your personal information, you agree that TechTarget and its partners may contact you regarding relevant content, products and special offers.
You also agree that your personal information may be transferred and processed in the United States, and that you have read and agree to the Terms of Use and the Privacy Policy.
Instead they would call in services, in some cases, as needed. These services were usually wrapped in XML and delivered over HTTP. They were called Web services, and were combined sometimes using techniques of service-oriented architecture. A classic example of an early Web service was a stock ticker feed.
With the stock feed, there was no need for you to write it yourself – you called it over HTTP. You could program against such a data service. For example, you might have five competitors' stock prices feeding on to an executive's PC screen. Maybe you would correlate this with another fee, say, money exchange rates. The Web services stock feed demo became so common that it became kind of boring.
Fast forward to today. Where B2B is in play, we now share services across corporate boundaries. Other than that, much of the services action still remains within the confines of the operation where components are shared across departments. These shared services bear some conceptual similarity with software object architecture of the '90s, although the implementation details are very different. Most discussion of SOA as it has evolved has been about in-house services.
Where are Web stock tickers now? They have become ubiquitous and something of an afterthought. But their siblings continue to grow. What is happening is that a genuine industry is growing up around this Web data services. The providers often have familiar names: Thomson Reuters and D&B, for example. But new entities have emerged such as StrikeIron, which offers a catalog of data services. Let us know what data services have worked for you. What has not worked? What questions do you have on data services?