News
Stay informed about the latest enterprise technology news and product updates.
Trends in BPM and modeling
Technologies rarely evolve neatly in straight lines. Instead they bump into one another, and influence each others' directions. Think of a rack of billiard balls when the cue ball strikes! As an example, look at the technologies that converged in IBM's recent BPM BlueWorks, which is a modeling tool set for business processes available as a service via the cloud. To top it off, BlueWorks is built in part on IBM's sMash Enterpirse Mash-up development tool technology. In fact, the front end of BPM, the area where the processes are modeled is very active just about now, and IBM is far from alone in innovating.

Download this free guide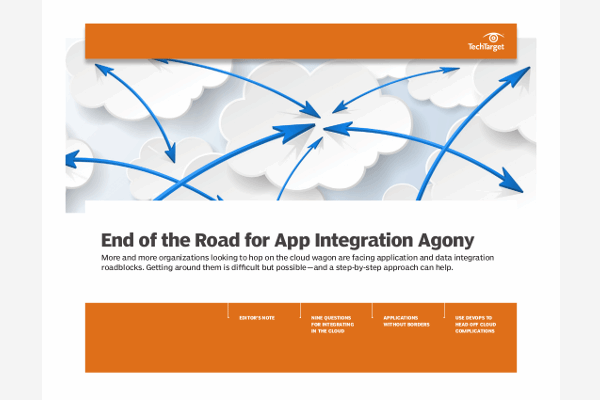 Download Our Guide: Application Integration for SaaS Adoption
More and more organizations looking to hop on the cloud wagon are facing application and data integration roadblocks. Getting around them is difficult but possible—and a step-by-step approach can help.
By submitting your personal information, you agree that TechTarget and its partners may contact you regarding relevant content, products and special offers.
You also agree that your personal information may be transferred and processed in the United States, and that you have read and agree to the Terms of Use and the Privacy Policy.
Integrating with the Eclipse and Microsoft Visual Studio, Sparx's new Enterprise Architect 7.5 introduces editions aimed at the business community, software developers and systems/hardware designers. The software can generate code from UML behavioral and rule-based models, and it can generate BPEL from BPMN 1.1 models. It includes profiles and plug-ins covering DoDAF, TOGAF and MODAF. The software supports a variety of UML profiles including one that addresses 'business motivation' modeling, an OMG-backed approach intended to meld software development with business objectives. The tool is as much a communications tool as it is a design tool, says one end user.
In building larger business processes, you may need for example to deal with managed file transfers. In this case you might look at BPM modeling software capable of managing FTP systems. Such software is described in a recent article by SearchSOA.com's Lauren Kelly in "Metastorm BPM engine said to give process owners more control."
Simplification is the underlying trend in BPM modeling today. But the goal is not simply to allow business users to more readily map their processes. Anyone can benefit from easier modeling. SearchSOA.com covered the issue in "Active Endpoints, Seros in deal to orchestrate BPM and push SOA."
Simplification at the service level is bubbling up among a slew of modeling trends. Among new technologies that may help are UML-based SoaML tools. SoaML seeks to define a metamodel for the service interfaces with which developers work. It maintains compatibility with UML and BPMN. It seeks to further the long-standing Web services goal of creating useful contracts between services.