News
Stay informed about the latest enterprise technology news and product updates.
Talks and thoughts from Red Hat Summit and JBoss World 2011
The Red Hat Summit / JBoss World 2011 was this young reporter's first experience with an event of such size. Seeing so many open source vendors, users, experts, and enthusiasts all in one place was truly impressive. Not to mention the lavish refreshments (which I probably shouldn't).

Download this free guide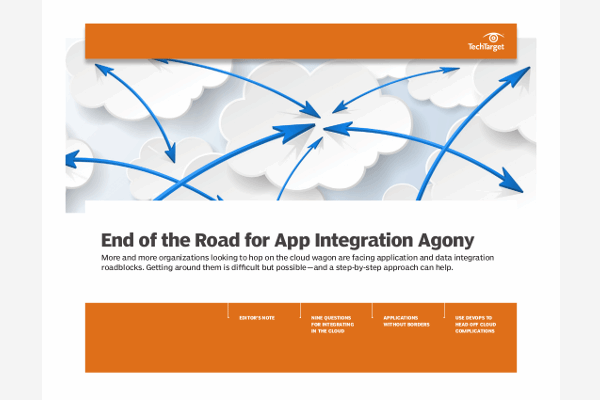 Download Our Guide: Application Integration for SaaS Adoption
More and more organizations looking to hop on the cloud wagon are facing application and data integration roadblocks. Getting around them is difficult but possible—and a step-by-step approach can help.
By submitting your personal information, you agree that TechTarget and its partners may contact you regarding relevant content, products and special offers.
You also agree that your personal information may be transferred and processed in the United States, and that you have read and agree to the Terms of Use and the Privacy Policy.
The event kicked off on Tuesday afternoon with General Hugh Shelton, chairman of the Red Hat board of directors, who kept his speech short and sweet. Shelton assured listeners that although "We're not there yet, and we won't be there until we eliminate our fiercest competitors […] the open source army will continue to march on because it is the right thing to do." He finished his speech by extolling virtues such as openness, sharing, and evolutionary thinking.
Jim Whitehurst, president and CEO at Red Hat, picked up where General Shelton left off, connecting advances in information technology with advances in social reform. He cited recent revolutions of oppressed peoples whose greatest tool was the ability to exchange information. Whitehurst asserted that the principals that drive these revolutions—collaboration, openness, and most of all freedom of choice—are the same principles that drive cloud evolution. According to Whitehurst, we are coming to a fork in the road in the development of new cloud technologies where we, as the IT industry, must ask ourselves "Are we just choosing the next Microsoft?" In other words, will the cloud be dominated by one massive platform provider with whom everyone else will have to deal?
Last up in the opening keynote was Paul Daugherty, chief technology architect at Accenture, who kept the revolution/evolution ball running by saying "If you look at where the innovation is happening, it's around open source." According to Daugherty the open source players are inundating the IT world with disruptive innovation. Daugherty sited social networking as an area where the biggest challenge can be dealing with the sheer volume of data and it's ever increasing rate of increase.
I'm writing about the opening keynote speeches because I think they set a really good tone for the whole show. It got me fired up and excited about learning what the open source folks are doing to build a better tomorrow. The company announced OpenShift, Cloud Form, the early access release JBoss Enterprise Application Platform 6, and more. I picked up a bushel of useful tips about database management, HTML 5, Java stuff, cloud application integration, RESTful programming, and more. I'm looking forward to a long stretch of writing stories for SearchSOA.com and for our sister site TheServerSide.com. Stay tuned.