News
Stay informed about the latest enterprise technology news and product updates.
SOA tester provides deeper view of composite application integrations
SOA has driven major shifts in programming and computing. But major shifts mean major challenges and disruptions. In fact, although SOA has been around for a while, people are still busy solving some basic problems.

Download this free guide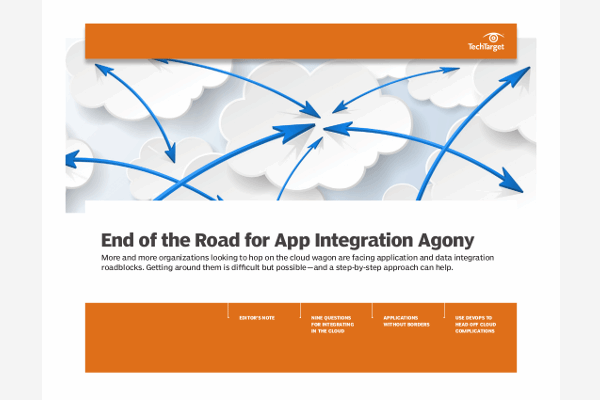 Download Our Guide: Application Integration for SaaS Adoption
More and more organizations looking to hop on the cloud wagon are facing application and data integration roadblocks. Getting around them is difficult but possible—and a step-by-step approach can help.
By submitting your personal information, you agree that TechTarget and its partners may contact you regarding relevant content, products and special offers.
You also agree that your personal information may be transferred and processed in the United States, and that you have read and agree to the Terms of Use and the Privacy Policy.
The marriage of software development and service-orientation especially continues to confront testers with new challenges, says Wane Ariola, Vice President of Strategy for Parasoft Corp. The company has recently updated its Parasoft SOAtest suite to address issues SOA practitioners find as they embrace messaging integration middleware, composite applications and new REST architectures.
Messaging middleware is still new to many testers, and it is found in many a SOA. The "headless" nature of composite applications – often, there is no client interface with which to interact – also challenges the test team.
Meanwhile, SOA services have expanded from WSDL to include WADL, said Ariola. They have also expanded from mostly SOAP to include JSON and REST alternatives. That makes SOA testing more complex for QA, too.
Ariola said new visual analysis features in the latest release of Parasoft SOAtest help organizations quickly pinpoint the root cause of failures within complex composite architectures. Another new analysis feature he points to allows Parasoft SOAtest to connect to a JMS or MQ broker to retrieve the list of message queues – again, to enhance pinpointing of flaws. Core message testing enhancements related to JSON, WADL, REST, WS-I, EDIFACT are also part of the new parcel.
"Said Ariola: When you test composite apps, it's somewhat of a black box. What we have done is extend the event detail perspective. This gives you the ability to really understand what the specific point of failure is." – Jack Vaughan