News
Stay informed about the latest enterprise technology news and product updates.
SOA in 2008, what do users see?
Over the past few weeks the media has been full of 2007 recaps and 2008 predictions. It's not just the tech media or the service-oriented architecture space. The national and international media does it too, in every arena: politics, entertaiment, business, etc.

Download this free guide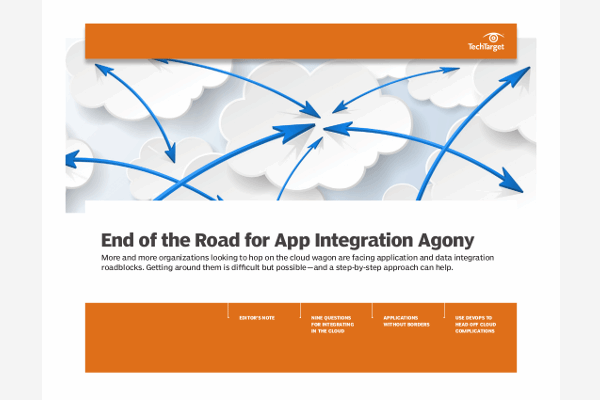 Download Our Guide: Application Integration for SaaS Adoption
More and more organizations looking to hop on the cloud wagon are facing application and data integration roadblocks. Getting around them is difficult but possible—and a step-by-step approach can help.
By submitting your personal information, you agree that TechTarget and its partners may contact you regarding relevant content, products and special offers.
You also agree that your personal information may be transferred and processed in the United States, and that you have read and agree to the Terms of Use and the Privacy Policy.
All in all, it probably counts as a good thing that we take the time to look back and then project forward. It gets our heads out of the routine of paying attention to nothing but what's most immediately in front of our faces. Perspective never hurts.
At SearchSOA.com, we've listed our top SOA stories of 2007 – stories 1-4 and stories 5-8. We've spoken with two exceptionally smart people in the SOA space about what 2008 might hold in store for SOA. IBM WebSphere CTO Jerry Cuomo discussed SOA maturation and event-driven SOA. Layer 7 CTO Toufic Boubez targeted operational governance and virtualization. That's certainly plenty to digest for anyone looking to fulfill his/her U.S.D.A. recommended yearly dose of SOA perspective. Yet there is someone important we haven't brought into the discussion … you.
Often missing in this particular dialog is the end user. The analysts, pundits and vendors make their thoughts known in the media echo chamber, but it's high time some users sounded off. What was big for you in 2007? More importantly, what do you see as the big things looming for you in 2008? We want to know. Feel free to e-mail me at mmeehan@techtarget.com with your comments or post them in this blog (which, for those of you reading this in our newsletter, can be found through the hyperlink on the headline). If you want to write a full column, we'll run it. If you just have a few quick points to make, we'll collect those and get them up in the blog.
Users drive this bus. Ultimately, that's how IT works. So where are you taking SOA in 2008? Is it along the same superhighways we all know about or have you found some shortcuts and interesting sideroads you plan to explore?