News
Stay informed about the latest enterprise technology news and product updates.
Random notes from Gartner BPM Summit in Orlando.
I was thinking … We often think of Agile as a trend within development and software architecture. But some of the tenets of this movement appear in the discussions of BPM advocates, many of them residing in Operations. SOA teams had better talk and walk the Agile talk and walk just as well as anyone …

Download this free guide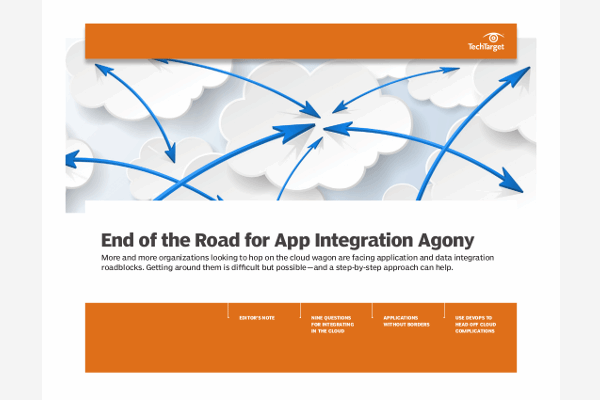 Download Our Guide: Application Integration for SaaS Adoption
More and more organizations looking to hop on the cloud wagon are facing application and data integration roadblocks. Getting around them is difficult but possible—and a step-by-step approach can help.
By submitting your personal information, you agree that TechTarget and its partners may contact you regarding relevant content, products and special offers.
You also agree that your personal information may be transferred and processed in the United States, and that you have read and agree to the Terms of Use and the Privacy Policy.
BPM has had resurgence. BPM predates SOA. It spent some time in SOA's shadows. Now it is back in the limelight. Makes sense. The business of businesses is, after all, about business, not software services.
There has been a surge in tactical BPMs, purchased by Lines of Business. They do this with less procurement overhead than is entailed in the typical SOA Governance undertaking.
The ability of departments to go forward with BPM can lead to proliferation of BPMs within an organization. An enterprise architect at a large bank told Gartner attendees his organization had over 31 unique BPM products in place.
Proliferation threatens to unleash strings of one-ofs – as narrow systems are increasingly sub-optimized, customized and specialized don't their components become non-reusable within an organization? Does this recall the early days of Web services at all? Should there be a moratorium on the term 'silo'?
BPMN 2.0 is starting to appear in product form. It is said that it will allow business users to communicate more effectively with the technology side of the house. It should mark the end of the BPMN-BPEL wars, but probably wont.
BPMN has a long way to go to becoming as ubiquitous a user tool as, say, Excel or Visio. Right now, training and learning curve are marching orders. A killer app on the order of SimCity would help.
Does it seem like SOA Governance vendors have switched themes to you? We hear more about application management these days.
Power outlets seem harder and harder to find. When you find one at a conference these days, you usually find a modern knowledge worker tethered to it already.