News
Stay informed about the latest enterprise technology news and product updates.
Oracle avoids JavaScript in RIA tools
Oracle Corp. continues to pursue its agnostic approach to Web 2.0 development as its tools designed to help developers create Ajax without having to mess with JavaScript progress through beta, says Ted Farrell, chief architect and vice president for tools and middleware at Oracle.

Download this free guide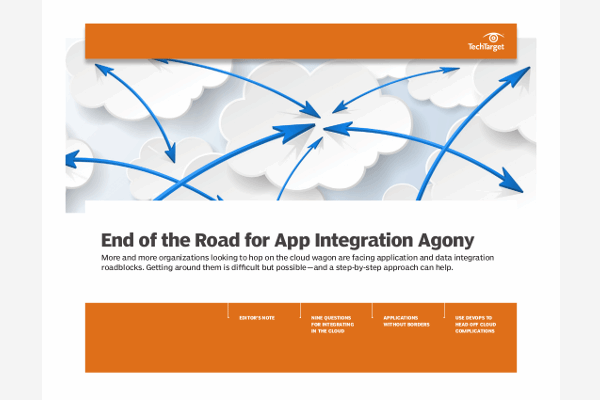 Download Our Guide: Application Integration for SaaS Adoption
More and more organizations looking to hop on the cloud wagon are facing application and data integration roadblocks. Getting around them is difficult but possible—and a step-by-step approach can help.
By submitting your personal information, you agree that TechTarget and its partners may contact you regarding relevant content, products and special offers.
You also agree that your personal information may be transferred and processed in the United States, and that you have read and agree to the Terms of Use and the Privacy Policy.
In an interview discussing the Oracle approach to the problematic nature of JavaScript this past fall, Farrell said: "In the Ajax space, JavaScript access to portlets and data sharing is very difficult and in a lot of cases, it's actually impossible."
His opinion hasn't changed. Speaking this past week about the Oracle tool development that relies on Java Server Faces (JSF) to spare coders from JavaScript, Farrell said, "We don't want our developers programming in JavaScript, which is a pain in the neck."
Oracle has standardized on a JavaServer Faces (JSF)-based RenderKit, which allows the developer who has learned JSF to assemble disparate components into a Web 2.0-style mashup.
Enterprise customers are looking for ways to avoid getting caught up in such complexities, so the philosophy behind the tools Oracle has in beta is to automate the rendering technologies, so developers only need to work with components and pages, he said. This approach also is designed to insulate developers from the on-going changes in underlying technologies for RIA, he said.
"As technologies change, we can change our framework but they don't have to change their pages," Farrell said.
He describes the Oracle RIA tools as "very WYSIWYG." The developer designates that a page will be Ajax with Flash from Adobe Systems Inc., Farrell said, and that is all the coder needs to know about those technologies.
"You don't have to learn those technologies," he said, which in the case of Ajax is basically JavaScript. "Our visual editor will show you how the page is going to look. You can drag a component like a table onto the page. You can bind that to some backend databases or Web service, wherever you are getting the data from."
Farrell said the Oracle RIA tools are in an advanced beta stage prior to the official release. Interested developers can find out more information and even download them from the Oracle Technology Network.