News
Stay informed about the latest enterprise technology news and product updates.
Open source leading SOA charge in 2008
Last August I noted that Microsoft regularly finds itself buried under an avalanche of news coming from its Java-based competition. It's impossible to compete with that kind of volume and that fact alone has caused the SOA market to gravitate toward Java and away from .NET.

Download this free guide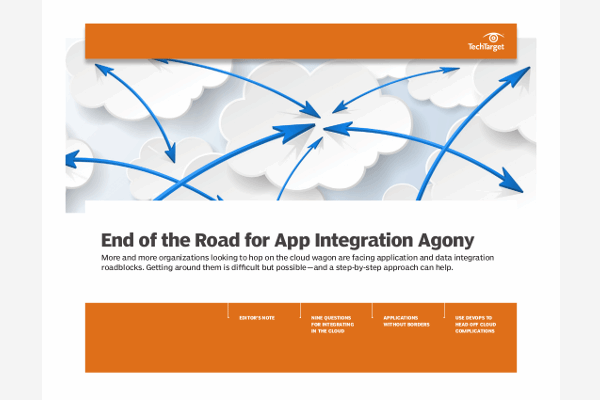 Download Our Guide: Application Integration for SaaS Adoption
More and more organizations looking to hop on the cloud wagon are facing application and data integration roadblocks. Getting around them is difficult but possible—and a step-by-step approach can help.
By submitting your personal information, you agree that TechTarget and its partners may contact you regarding relevant content, products and special offers.
You also agree that your personal information may be transferred and processed in the United States, and that you have read and agree to the Terms of Use and the Privacy Policy.
Well, something similar is happening this year with open source vs. proprietary vendor in 2008, but, in what should be considered a bit of a stunner, it's the open source folks who are creating the news deluge. It started innocently enough when Mulesource and WSO2 both released REST-based SOA registries. Then Red Hat released a modularized SOA platform in February. Now WSO2 and Mulesource are back with another major round of announcements. Based on its December Spring Integration release, you can expect SpringSource to become an increasingly visible player in the SOA market. Sun Microsystems will surely have some service-oriented dogs and ponies to show off at next month's JavaOne conference and Eclipse, which has already debuted the Swordfish SOA runtime this year, will have a whole slate of SOA-enabled tools in its June Ganymede release.
The open source players are pounding away at the news cycle, throwing a steady stream of innovation into the mix. Obviously traditional app dev titans still dominate the market in terms of dollars and customers, but it's about time somebody noted that we've got a movement on our hands. If you're looking to build loosely coupled services, there are a host of open source vendors to choose from and that ecosystem is growing at an aggressive rate.
Change, particularly in an established market, doesn't come in one big seismic event. It takes years of consistent pressure to remake this kind of landscape, but to be sure, we are in a period of volcanic activity for the open source market.