News
Stay informed about the latest enterprise technology news and product updates.
OSGi angle on Snorkle (Sun-Oracle) deal
Communicated recently with Eric Newcomer about Oracle and Sun, which is big news this week. Parts of our e-mail conversation are included in the SearchSOA.com story entitled "Java side of Sun seen strengthened by Oracle buy."

Download this free guide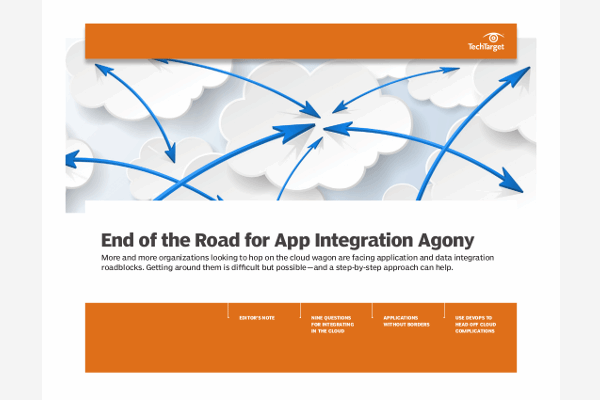 Download Our Guide: Application Integration for SaaS Adoption
More and more organizations looking to hop on the cloud wagon are facing application and data integration roadblocks. Getting around them is difficult but possible—and a step-by-step approach can help.
By submitting your personal information, you agree that TechTarget and its partners may contact you regarding relevant content, products and special offers.
You also agree that your personal information may be transferred and processed in the United States, and that you have read and agree to the Terms of Use and the Privacy Policy.
There are a lot of questions yet to be resolved in this ongoing story – What will happen to Java? Where for art thou, MySQL? Will Oracle become a hardware company? Whither Netbeans? And so on.
Eric Newcomer, in his role of OSGi champion, has an additional question: How will this merger affect OSGi? We have featured OSGi more than a bit on both this blog and on the SearchSOA.com site, and therefore are glad to share some of Eric's thoughts on OSGi in the light of the proposed mega merger here. He suggests he may clear up some murkiness on the Sun side that previously seemed to be out and about.
He writes:
"Oracle has been a strong supporter of OSGi. They are well represented on the enterprise expert group that I co-chair, and one concrete action I expect is that they will move to eliminate Sun's formerly schizophrenic attitude toward OSGi for Java modularity.

Sun had supported OSGi through its adoption in GlassFish, but had also competed with it in Project Jigsaw and to some extend in the JSR 294 work as well. Among other things this created uncertainty over the role of OSGi in Java's future, especially for enterprise applications. Given Oracle's strong participation in the OSGi enterprise effort to date I expect this acquisition will have a positive impact on the OSGi enterprise initiative."