News
Stay informed about the latest enterprise technology news and product updates.
Matsumura: SOA and the world beyond infrastructure silos
By Jack Vaughan
We had an opportunity to speak with Miko Matsumura, chief strategist for Software AG, recently. At a time when SOA seems to be emerging again, chastened if you will, by a near death experience, it was pleasant to converse with Matusmura, who always has an engaging take on the SOA news of the day.

Download this free guide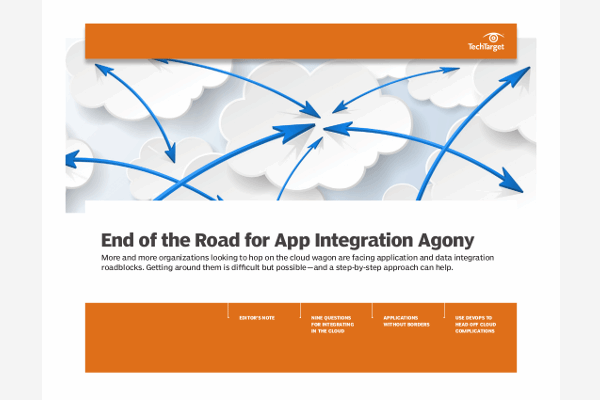 Download Our Guide: Application Integration for SaaS Adoption
More and more organizations looking to hop on the cloud wagon are facing application and data integration roadblocks. Getting around them is difficult but possible—and a step-by-step approach can help.
SOA, he said, has become vital. In this he echoed recent comments of Forrester's John Rymer, saying SOA may be getting to the point where it is just an accepted part of the IT development program, like "the background radiation in the universe." Both Rymer and Matsumura were among the speakers at Software AG's SOA Summit last week in Phoenix.
Like Rymer, Matusmura cited Jeffrey Moore's vaunted 'crossing the technology chasm' analogy – it holds that an early majority takes hold of something useful and it becomes normal. To which we'd add: it becomes non-extraordinary and non-magical, and non-fodder for the hypemeisters. It becomes the way people do business.
A big shift, Matusmura said, was very clear at Software AG's SOA Summit where there was a feeling that people are getting pragmatic about SOA adoption. He said people are clear about the difference between SOA and the classic model of application integration.
Matsumura said we are effectively moving toward transcending 'siloed' infrastructure. "This is about much more than connecting disparate applications," he said. "It requires moving people and behaviors, not just bits."
This all may call for a more enlightened approach to SOA governance, he suggested.
"If you connect two silos, you have to establish not just the concepts of interoperability, but also of the concepts of sharing," said Matsumura.
Although we were all supposed to learn to share in kindergarten, this is never easy. People get very attached to their servers and apps.
"We end up forming these tribal groups around silos. There is rivalry for budget," said Matsumura. "The great majority of the cost complexity in existing IT has human origins."
Matsumura said a lot of the best practices around governance that are emerging are centered on behaviors. The end result may resemble B2B networks, he suggested, as companies adopt sharing practices within the company along the lines of sharing practices they have already adopted with outside partners.