News
Stay informed about the latest enterprise technology news and product updates.
HP's LoadRunner in the cloud validates demand for cloud testing
When HP announced LoadRunner in the Cloud two weeks ago, many took it as validation that enterprise software testing really is a viable use for public cloud computing services. While the offering is currently entering a beta phase, HP will soon make its flagship load testing product available in the on-demand model found in a number of other cloud testing services.

Download this free guide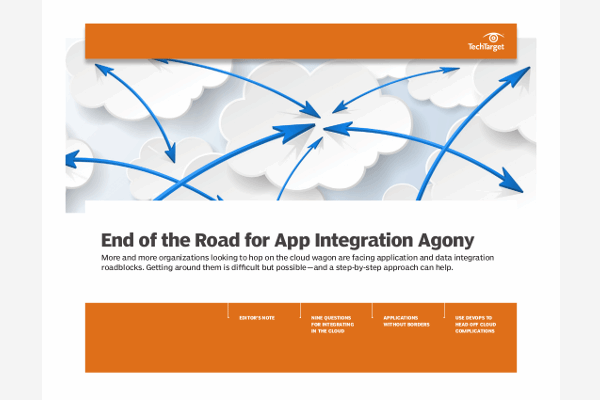 Download Our Guide: Application Integration for SaaS Adoption
More and more organizations looking to hop on the cloud wagon are facing application and data integration roadblocks. Getting around them is difficult but possible—and a step-by-step approach can help.
By submitting your personal information, you agree that TechTarget and its partners may contact you regarding relevant content, products and special offers.
You also agree that your personal information may be transferred and processed in the United States, and that you have read and agree to the Terms of Use and the Privacy Policy.
"That was a big, big announcement because HP LoadRunner is the industry standard," said Theresa Lanowitz, founding analyst of voke Ink., "And it's no longer going to be cost prohibitive."
While there are a number of newer vendors offering on-demand test labs for QA teams, Lanowitz said a tech giant like HP only makes such a departure from its traditional licensing model when it feels it has to.
There is a trend developing where developers are starting to do more testing on their own, said Priya Kothari, product marketing manager for LoadeRunner at HP. But they aren't necessarily doing the same end-to-end testing that QA teams are usually responsible for.
"That's where you build your piece of code and you want to do some unit performance testing for it," said Kothari. "We are seeing more and more, especially with SOA applications, that developers are using performance testing solutions to do some of this on their own."
By putting LoadRunner in Amazon EC2, HP will offer the software on a pay-per-use basis rather than requiring traditional licensing. Kothari said this will make LoadRunner much cheaper to use, which could make it more attractive to midmarket application development shops.
This time last year the cloud computing buzz was reaching its peak and analysts were saying that test and development would be the first big use cases for the average enterprise. Security, of course, was and is the major concern keeping enterprises form moving full production systems in the cloud. But at the time, the cloud testing and virtual lab space was inhabited mainly by newer companies like SOASTA, Skytap and the like.
In March, IBM hopped on the cloud testing bandwagon and now HP has thrown its own hat into the ring. With the larger players falling into line, one can only conclude that there is enough demand for cloud testing services to make it very viable indeed.