News
Stay informed about the latest enterprise technology news and product updates.
Enterprise mashups poised to power app dev for masses?
The PC revolution was not IT's doing. Adventurous end-users brought the damn things into the company, impressed most everyone, and IT finally got with the program. Back in the day, with PC tools, mere mortals (end users) could learn programming too. They only did it because they got tired of waiting in an endless line to get a new application. Are we entering such an era yet again as enterprise mashups grow?

Download this free guide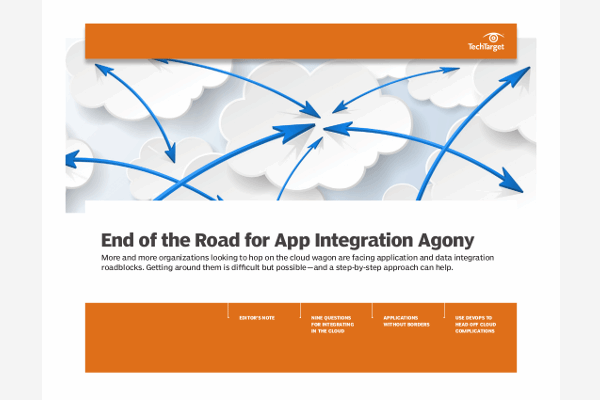 Download Our Guide: Application Integration for SaaS Adoption
More and more organizations looking to hop on the cloud wagon are facing application and data integration roadblocks. Getting around them is difficult but possible—and a step-by-step approach can help.
By submitting your personal information, you agree that TechTarget and its partners may contact you regarding relevant content, products and special offers.
You also agree that your personal information may be transferred and processed in the United States, and that you have read and agree to the Terms of Use and the Privacy Policy.
Of course the first era of up-from-the-underground application development was not all good. Lotus 1-2-3 and Visual Basic in the wrong hands could cause grief when it was time to scale up. Lotus Notes and Powerbuilder were capable of some departmental gems, but without the professional's hand, many early client-server applications could wreak havoc. There goes a runaway query!
Still, with their faults, these PC-centric tool sets brought in some fresh air. Some people suggest some more such fresh air may waft our way on the winds of enterprise mashups, The front-end tools that connect to data sources in a way assumedly nimbler than the portal server methods that came about with Java.
John Pyke of Business Process Management (BPM) specialist Cordys sees some such change in the wind. "I think we are getting to a tipping point in the way software is assembled and deployed," he recently told us. "A combination of process, SOA and mashups is going to be in the vanguard."
For its part, Corsys appears to be in the vanguard of the vanguard here. The company joined the Google Enterprise Partner program in an effort to bring structured workflow techniques to the Google Apps productivity software suite. The goal is to combine the best aspects of Cordys Process Factory with the Google Apps Premier Edition. It could, maintains Pyke, form an alternative to Microsoft's BizTalk or Windows Workflow Foundation that hook into the Office software suite.
Process is important, or mashups become a mess, like some of the less stellar moments back in the 'anyone-can-do-it' client-server tool days.
"If you are going to put these tools in the hands of end users to build situational applications, you still needs some kind of compliance or tracking activity around it. Otherwise, it's all mayhem," said Pyke.
"People mash things up together and they forget about the process side of it,'' he said. That's where BPM comes in.
Of course, the momentum around iPhone and other smart phone apps enforces the enterprise mashup cause.
Asks Pyke playfully: "Who is going ever again to build a Windows app?"
"You are going to build to a browser," he says, answering the question.
With a bit of irony, he states: "The last great Windows application may be Google Earth."
That may prove to be a bit of stretch. Still, if successful, the well-tempered enterprise mashup may bode the end of apps as we know them.