News
Stay informed about the latest enterprise technology news and product updates.
Ehcache Java in-memory store gains advanced analytic traits
Caching specialist Terracotta Inc. recently released search features that allow the Ehcache Java in-memory data base to support analytical views of data that may have heretofore required a return visit to a relational database architecture.

Download this free guide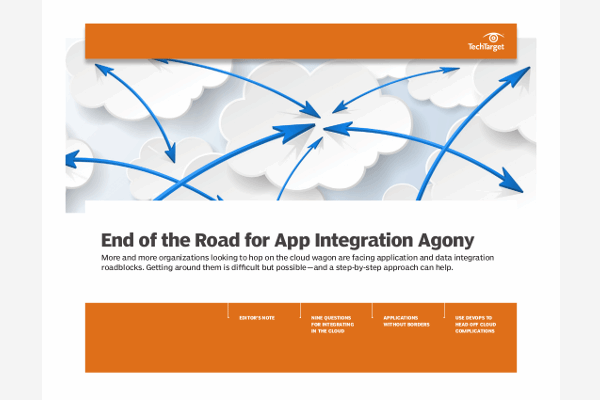 Download Our Guide: Application Integration for SaaS Adoption
More and more organizations looking to hop on the cloud wagon are facing application and data integration roadblocks. Getting around them is difficult but possible—and a step-by-step approach can help.
By submitting your personal information, you agree that TechTarget and its partners may contact you regarding relevant content, products and special offers.
You also agree that your personal information may be transferred and processed in the United States, and that you have read and agree to the Terms of Use and the Privacy Policy.
"Now you have native search capability added to Ehcache," said Mike Allen, head of product management at Terracotta. Like others, he sees a general rush to use caching more widely. He asserts that relational data bases do not have the same inherent scalability as in-memory caches when it comes to the rapidly growing data volumes of today. But, he admits, Ehcache has not been readily open to search tools capable of real-time data analysis.
Java memory caches such as Ehcache have proved very useful in scaling distributed applications, including emerging cloud computing setups. But, when the data in question needs to be specially searched or analyzed, the fallback position is a traditional relational data base that, in such applications, can incur significant costs. Moreover, augmenting the fast cache with database queries for search and analysis can, with ever bigger 'big data' volumes, slow down overall performance.
Leveraging in-memory data stores to support both transactional and analytical applications will allow enterprises to conceive applications unimaginable beforehand, said Gartner Vice President and Fellow Massimo Pezzini in a statement.
Combining analytical and transactional capabilities in the same application will allow users to analyze business trends 'as things happen,' according to Pezzini.