News
Stay informed about the latest enterprise technology news and product updates.
At JavaOne - Java on the front end gets its time to shine
It is known for its servers, but even before it purchased Java-originator Sun Microsystems, Oracle had interest in client side technology. Still, it was surprising how much time Oracle's Thomas Kurian devoted to user interface issues in his JavaOne Keynote Monday.

Download this free guide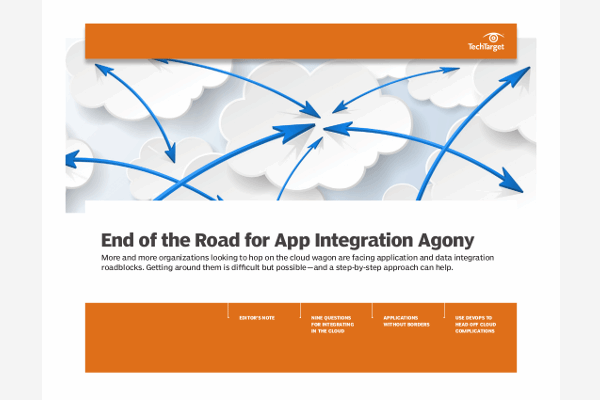 Download Our Guide: Application Integration for SaaS Adoption
More and more organizations looking to hop on the cloud wagon are facing application and data integration roadblocks. Getting around them is difficult but possible—and a step-by-step approach can help.
By submitting your personal information, you agree that TechTarget and its partners may contact you regarding relevant content, products and special offers.
You also agree that your personal information may be transferred and processed in the United States, and that you have read and agree to the Terms of Use and the Privacy Policy.
The big push is to provide Java developers a single platform for doing server and client side programming. These days, of course, those twain tend not to meet – you get out of Java to do a whole bunch of JavaScript or Flash.
"We believe the time has come to give Java developers a framework to build the world's best-looking applications," Kurian told the JavaOne crowd. He said Java efforts are underway to support interoperability between Java, JavaScript and HTML5.
At JavaOne, Oracle indicated it was building Java APIs for JavaFX Script like binding in JavaFX 2.0. This includes support for high performance lazy binding. Non-Java languages will be able to take advantage of this binding library.
Oracle followed up all this with a proposal to contribute the Sapphire (a jab at SAP?) Java desktop user interface designer to Eclipse (which, we might recall, itself was a jab at Sun).
The slate of new stuff includes Project Prism graphics pipeline acceleration on hardware or via software. It will target DirectX on Windows platforms (both 32 and 64 bit) and OpenGL on other systems. Will HTML5 codecs be a point of contention between Google and Oracle, as Android has? This is the point where our embedded pundit chimes in: "Time will tell."
Much of the original Java effort was focused on the client-side, but the server-side has been far more fruitful. The advent of HTML5 could give Java another chance to shine on the front-end, but Oracle likely faces an uphill battle there.